24 Hawkeyes to Watch 2018-19 | Hawkeye Fan Shop — A Black & Gold Store | Hawk Talk Monthly — October 2018 | Women's Results (PDF) | Men's Results (PDF)
LINCOLN, Nebraska — University of Iowa junior Nathan Mylenek led the men's cross country team to a sixth-place finish Sunday at the 2018 Big Ten Championships. Mylenek placed 11th overall (24:00.5) in the 8,000 meters, earning second team all-conference honors and leading the Hawkeyes to their best finish since 2009.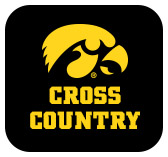 The women placed ninth in the 6,000 meters, their highest finish since 2011. Senior Andrea Shine led the women, placing 15th overall in a career best 20:35.4.
 
QUOTING COACH HASENBANK
"A wonderful performance by the men's team today. Two years ago this group was dead last in the Big Ten. I am very proud of how they competed. Nate [Mylenek] got us going up front with an 11th-place finish, and then the rest of the squad competed like warriors. We wanted to get out and establish ourselves early, and we did that today.
 
"I am so proud of Dan Soto's performance. This is a guy who came off a great summer of training, led the squad most of the season, and his IT band flared up on him. I felt terrible for him. Fantastic effort considering he has not run since Wednesday. Many, many athletes would not have gone to the line with this type of adversity. He is a team player in every sense of the word."
 
"This was the women's best finish since 2011 and the men's best finish since 2009. It is a great marker for how far we have come in just two years. Behind Andie [Shine] and Megan [Schott], we had four freshman across the line. If you look at the clock, you will see that this group improved dramatically from our meet here early in the season.
 
"What can I say about Andie, 82nd in this meet as a freshman, 66th as a sophomore, 29th last year and now 15th. What a career and what a great message to send to our young team. Her determination has built her into a championship runner. She tried to win the race today and showed tremendous courage. She is quite a story."
 
 
NOTABLES
Mylenek improved by 17 places from the 2017 Big Ten Championships, when he placed 28th.
Eight of the men's nine competitors recorded career best 8,000-meter times, including Mylenek (24:00.5), Brandon Cooley (24:36.9), Ian Eklin (24:58.7), Noah Healy (25:24.5), Bailey Hesse-Withbroe (25:05.2), Daniel Murphy (24:37.0), Spencer Smith (24:59.8), and Karson Sommer (24:40.5).
Shine improved 14 spots from the 2017 Big Ten Championships, placing 15th in 2018.
On the women's side, four Hawkeyes set 6,000 meters personal bests, including Shine (20:35.4), Ashley Bryja (22:35.3), Kylie Latham (22:52.8), and Jessica McKee (22:11.5).
FOLLOW THE HAWKEYES
For an inside look at the Iowa cross country program and to access exclusive coverage, "like" The University of Iowa Cross Country and Track & Field Facebook page and follow @Iowa XC T&F on Twitter.
COMPLETE RESULTS
Women's 6,000 Meters Results
Andrea Shine, 15th, 20:35.4
Megan Schott 41st, 21:16.8
Anna Hostetler, 50th, 21:33.9
Grace McCabe, 67th, 21:59.8
Jessica McKee, 74th, 22:11.5
Jordan Winke, 79th, 22:13.8
Ashley Bryja, 89th, 22:35.3
Kylie Latham, 98th, 22:52. 8
Macie Weber, 122nd, 24:15.1
Men's 8,000 Meters Results
Nathan Mylenek, 11th, 24:00.5
Daniel Soto, 32nd, 24:33.6
Brandon Cooley, 35th, 24:36.9
Daniel Murphy, 36th, 24:37.0
Karson Sommer, 39th, 24:40.5
Ian Eklin, 52nd, 24:58.7
Spencer Smith, 54th, 24:59.8
Bailey Hesse-Withbroe, 60th, 25:05.2
Noah Healy, 75th, 25:24.5