24 Hawkeyes to Watch 2018-19 | Hawk Talk Monthly — October 2018 | Box Score (PDF) | Hawkeye Fan Shop — A Black & Gold Store – https://hawkeyefanshop.com/?utm_source=HawkeyeSports&utm_medium=HawkeyeSports&utm_campaign=HawkeyeSports | Boxscore
COLLEGE PARK, Md. — The University of Iowa volleyball team fell to the Maryland Terrapins, 3-0, inside the Xfinity Center on Sunday afternoon.
Senior Reghan Coyle led Iowa with 12 kills, sophomore Brie Orr tallied 27 assists, and senior Molly Kelly had 19 digs.
HEAR FROM COACH SHYMANSKY
"Our team continues to battle and work hard and coming up with victories on the road is always a challenge in the Big Ten. Now we have to work hard and get ready for two big matches with Rutgers and Penn State and continue to tweak our lineup to find the right chemistry on the court to be competitive Hawkeyes again."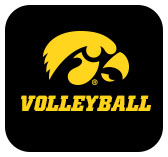 HOW IT HAPPENED
SET 1 (19-25) | Iowa and Maryland opened the match by trading points until a Terrapin run put Iowa in a 4-8 hole. Maryland continued to extend its lead to 10-15 until Iowa called a timeout. The Hawkeyes made a short run toward the end of the set, bringing the score to 16-19, but Maryland ended up closing out the first set with a kill.
SET 2 (22-25) | The Hawkeyes opened up the second set with more fire, taking a 15-9 lead before forcing a Maryland timeout. Maryland crept back into it with a three point run and, after an Iowa timeout, tied the score at 18. Both teams battled for control, but the Hawkeyes offense stalled at 22 points and allowed Maryland to squeeze by the second set victory.
SET 3 (21-25) | The third set followed a similar script to the second, with Iowa taking a large lead early in the set at 10-5. Iowa continued to dominate the first half of the set, but Maryland closed the gap and tied the score at 17. Iowa and Maryland traded points throughout the third until a Maryland block gave the Terrapins a 19-22 lead and forced an Iowa timeout. However, Iowa struggled to muster points and fell to Maryland 21-25.
NOTABLES
Iowa notched a game-high 55 digs.
The Hawkeyes were in control at the service line, committing only four service errors to Maryland's' 11.
UP NEXT
Iowa returns to Carver-Hawkeye Arena for back-to-back matchups against Rutgers on Nov. 2 and Penn State on Nov. 3. Tickets are available for both matches at hawkeyesports.com/tickets or over the phone at 800-IA-HAWKS.