Hawkeye Fan Shop — A Black & Gold Store | Hawk Talk Monthly — October 2018 | 24 Hawkeyes to Watch | Fight For Iowa
THIS WEEK
The University of Iowa swimming and diving team will host nationally ranked Michigan and Denver this Friday and Saturday for a two-day competition at the Campus Recreation and Wellness Center. Action begins at 6 p.m. (CT) Friday and 10 a.m. Saturday. The Michigan women are ranked fifth nationally, while the Wolverine men are seventh.  Denver is receiving votes in the top 25, coming in at 27th.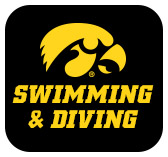 NEWCOMERS CREATING WAVES
Freshmen Mateusz Arndt and Anze Fers Erzen are continuing to contribute heavily early in their Hawkeye careers.  Fers Erzen won the 400 IM last week at Minnesota — his fourth victory in two duals.  Arndt is leading the team in the 500 and 1,000 free, while Fers Erzen has the top time in the 400 IM.  Fers Erzen is also second on the team in the 100 back, 200 back, and 200 IM.
MYHRE DOMINATES THE SPRINTS
Junior Joe Myhre has been electric in the sprint freestyle events so far this season. Myhre won the 50 free in 19.99 seconds and the 100 free in 44.27 against No. 21 Minnesota. He leads the team in these two events and has played a key role on winning relays.
 
HEARING FROM SOPHOMORE SAGE OHLENSEHLEN
"I am looking forward to racing the Big Ten champions, it's a great opportunity for the team to improve. Denver is pretty evenly matched with us and it will be a close meet. I'm looking forward to another chance to race which is what makes training more worthwhile. With each chance to race you can get better. Looking back on Minnesota I had a good meet but I know there are things I can do better, which is why I am excited for this weekend."
HAWKEYES LOOKING STRONG
The Hawkeye men narrowly lost to No. 21 Minnesota after a near comeback after the 400 IM. Iowa finished the meet just 17 points back in the road loss. Junior Joe Myhre and freshman Anze Fers Erzen powered the comeback effort with individual wins. The Hawkeye women also downed South Dakota State by a large margin. Additionally, they tallied a fourth-place finish at the SMU Classic a week prior, finishing behind No. 8 Louisville, No. 11 USC, and No. 10 Virginia. Iowa opened its season a pair of dual victories at Michigan State with the men's team posting a 193-98 win over the Spartans, while the Hawkeye women posted a 160-138 victory.
FOLLOW LIVE
Follow live results to the dual meet on Meet Mobile and on hawkeyesports.com. Live video will be available via Hawkeye All-Access — a paid subscription service. For an inside look at the Iowa swimming and diving program and access to exclusive coverage, "like" Iowa swimming and diving on Facebook and follow @IowaSwimDive on Twitter and @hawkeyeswimdive on Instagram.