Hawkeye Fan Shop — A Black & Gold Store | Fight For Iowa | Hawk Talk Monthly — October 2018 | 24 Hawkeyes to Watch | Photo Gallery | Iowa Michigan Denver Final Results
IOWA CITY, Iowa — The University of Iowa swimming and diving team completed day two of the double dual against Michigan and Denver with impressive time drops and season-best performances. The Hawkeye men defeated Denver (256-95) for their third dual win of the season, but fell to No. 7 Michigan (232-131) despite its sprint success.
 
The Hawkeye women dropped a pair of duals, falling to No. 5 Michigan (255-97) and Denver (181.50-171.50).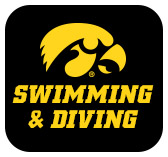 SPRINTERS SHINE
Iowa's sprint group showed its depth with a first-place finish from junior Joe Myhre (44.23) in the 100 free. Senior Jack Smith took fourth with a time of 44.97.
 
Junior Michael Tenney swam a season-best in the 100 fly in a time of 49.42. He also was third in the 400 IM in a time of 3:56.62. Tenney also helped the 400-medley relay team of Kenneth Mende, Daniel Swanepoel, and Myhre to a second-place finish (3:18.93).
 
In the final event of the day, the 200-free relay consisting of Myhre, Will Scott, Steve Fiolic, and Smith posted a winning time of 1:20.30, a season best.
 
DIVING CONTINUES STREAK
Sophomore Anton Hoherz continued the men's diving winning streak from Friday by adding a victory off the platform. He dove to a season-best score of 365.35.
 
Junior Thelma Strandberg dove to a third-place finish on platform, with a season-best score of 240.20.
 
FLY AND BACKSTROKE SUCCESS
Mende (1:48.66) and freshman Anze Fers Erzen (1:49.23) led the backstroke group to a two-three finish in the 200 back. Fers Erzen also tallied a fifth-place finish in the 400 IM.
 
Sophomore Kelsey Drake and senior Kelly McNamara swam to second and third place finishes in the 100 fly. Drake swam to a time of 54.65, while McNamara raced to a time of 55.27.
 
DISTANCE SEASON BESTS
Senior Abbey Schneider swam a 500 free season best of 5:08.67 to earn a seventh place finish, while junior Allyssa Fluit swam to a fifth-place finish in a time of 5:03.75.
 
HEARING FROM HEAD COACH MARC LONG
"There are many things we can always work on. The idea for bringing in these high caliber programs was to get that experience. We wanted to win and we're proud of our effort as a team. We swam very strong in our events and we had excellent performances off the boards."
 
HEARING FROM SENIOR JACK SMITH
"We've been working hard on our sprints and relays for the past few months, which makes us confident coming into these meets. We have the ACC/B1G Challenge and the Hawkeye Invitational coming up and we're confident racing against the best. It's always tough to race the best in the country, but getting the two relay wins and some individuals gets us toward our goal of being champions in the end."
 
FINAL TEAM SCORES (MEN)
No. 7 Michigan 232, Iowa 121
Iowa 256, Denver 95
No. 7 Michigan 271, Denver, 80
 
FINAL TEAM SCORES (WOMEN)
No. 5 Michigan 255, Iowa 97
Denver 181.50, Iowa 171.50
No. 5 Michigan 276, Denver 77
 
UP NEXT
The Hawkeyes will send seven student-athletes to West Lafayette, Indiana, for the ACC/B1G Challenge on Nov. 10-11.