24 Hawkeyes to Watch 2018-19 | Hawk Talk Monthly — November | Hawkeye Fan Shop — A Black & Gold Store | Box Score (PDF) | Boxscore
IOWA CITY, Iowa — The University of Iowa volleyball team (13-12, 5-9 Big Ten) fell to No. 7 Penn State (19-5, 10-4 Big Ten), 3-0, on Saturday night inside Carver-Hawkeye Arena.
Senior Taylor Louis led Iowa with 11 kills, sophomore Brie Orr had 30 assists, and senior Molly Kelly and sophomore Halle Johnston each had 11 digs.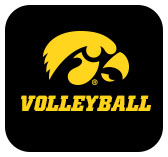 HEAR FROM COACH SHYMANSKY
"I thought we prepared very well for their outside hitters and did a good job blocking and defending them, but we didn't manage to stop their middles or right side and their right side led them in kills with 13. They blocked extremely well. I thought they scouted and prepared well. Our team is just trying to battle and find our competitive edge again. Last night's victory was good and helps us down that road and everybody has to play sharp when you're playing a top-10 team. This still continues to be a learning experience for our program. Now we have another great opportunity in Carver. We have come up with big upsets here and we can do it again."
HOW IT HAPPENED
SET 1 (18-25) | The Hawkeyes and Nittany Lions opened their first and only meeting of the season trading the first three points, but Penn State started to pull away early and held onto a 15-9 lead when Iowa called its first timeout. Our of the timeout, the Hawkeyes started to close the gap with a three point run to trail 15-19, but Penn State created more breathing room with a four point run to force Iowa's second timeout. Out of the timeout, Iowa managed to garner three more points, but Penn State closed the first set with a kill.
SET 2 (20-25) | Penn State opened the second set looking like it was going to cruise to another set win, but after falling behind 1-3, Iowa grabbed its first lead of the match at 5-4. The Hawkeyes continued to set the pace, but fell behind at 12-14 and called a timeout.  Penn State made the most of the timeout, extending its lead to 16-22. Iowa made a quick run thanks to errors by Penn State and brought the score to 20-24, but a Nittany Lion kill took the second set.
SET 3 (17-25) | Iowa fell early in the third set, allowing multiple runs to trail 11-17. Iowa called a timeout and managed to stall Penn State's momentum for a brief moment. Iowa and Penn State traded points, but the Nittany Lions weren't giving up any ground and took the set and match at 17-25.
UP NEXT
The Hawkeyes conclude their three-match homestand on Wednesday, Nov. 7, against Nebraska at 7 p.m. (CT). The match will air live on the Big Ten Network. Tickets for Wednesday's match are available at hawkeyesports.com/tickets or over the phone at 800-IA-HAWKS.