Hawk Talk Monthly — November | 24 Hawkeyes to Watch 2018-19 | Box Score (PDF) | Boxscore
IOWA CITY, Iowa — The University of Iowa volleyball team (13-13, 5-10 Big Ten) fell to the Nebraska Cornhuskers (19-6, 10-5 Big Ten), 3-0, on Wednesday night inside Carver-Hawkeye Arena
Senior libero Molly Kelly notched her 1,000 career dig and finished with 22 total. Senior Reghan Coyle led Iowa with 11 kills, and sophomore Brie Orr added 26 assists.
HEAR FROM COACH SHYMANSKY
"I thought we started out playing well tonight. There was gap in the first set and they escaped and then we had a lead in the second set. We keep reassuring our team that we still have it and we still have something great that we can accomplish this season. We are working so hard to fight and find our identity right now and the Big Ten doesn't let you do that very easily. I'm proud of the way we battled out there."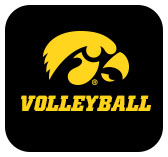 HOW IT HAPPENED
SET 1 (15-25) | The Hawkeyes and Huskers opened the game matching each other point for point. Senior Taylor Louis recorded the first four kills for Iowa and junior Meghan Buzzerio provided her own offense with three kills all while the Hawkeyes and Huskers battled to a 12-12 tie. Nebraska took a 15-13 lead into the media timeout where the Hawkeyes started to falter. Nebraska went on a 5-0 run to take a 13-20 lead. Iowa called its second timeout of the set and managed to score two more points before Nebraska took the first set.
SET 2 (22-25) | Iowa fell behind early in the second set, but found life when freshman Amiya Jones and Louis traded kills to give Iowa its first lead of the set at 10-9. On Iowa's 14th point of the set, senior Molly Kelly recorded her 1,000th career dig, which sprung a 5-0 Iowa run at the hands of senior Reghan Coyle's three straight kills. Iowa led 17-12. Nebraska responded with their own 10-4 run to take a 21-23 lead and the Huskers closed out the second set.
SET 3 (13-25) | Behind two sets, the Hawkeyes struggled to find their footing in the third set, falling behind 5-10 early on as the Huskers piled on the points. Nebraska took a 19-8 lead into Iowa's first timeout of the set. Iowa continued to struggle but didn't close the set out without a fight, scoring four of the last six points.
UP NEXT
The Hawkeyes travel to East Lansing, Michigan, for a matchup against the Spartans on Saturday at 6 p.m. (CT). Live results of the match are available on hawkeyesports.com/vblive.