Hawkeye Fan Shop — A Black & Gold Store | Hawk Talk Monthly — November | Hawk Talk Daily links | 24 Hawkeyes to Watch | Fight For Iowa | PHOTO GALLERY | Complete Notes (PDF) | Hawkeye Invite 2018 Friday Final Results
IOWA CITY, Iowa — The University of Iowa swimming and diving team completed day two of the Hawkeye Invitational on Friday at the Campus Recreation and Wellness Center. Relay performances and a school record powered the Hawkeyes to impressive season and career bests.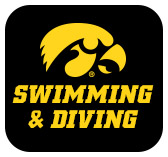 SCHOOL RECORD
Sophomore Kelsey Drake swam a school record, career best, and NCAA 'B' qualifying time of 53.12 in the 100 fly. Drake dropped .38 seconds to break the record. Kelly Mcnamara finished fifth in a time of 54.46.
 
DIVING TRIUMPHANT
Sophomore Jayah Mathews (335.10) and freshman Sam Tamborski (308.00) dove to first and third place finishes, respectively, on the 3-meter boards, while senior Will Brenner placed second for the men on the 1-meter boards with a score of 364.65.
 
Mathews completed the springboard sweep, as she won the 1-meter Thursday.
 
SEASON BESTS
Junior Michael Tenney (3:53.64), freshman Anze Fers Erzen (3:54.30), and freshman Dolan Craine (4:00.96) placed second, fourth, and eighth in the 400 IM 'A' final, all posting season- and career-best times.
 
Tenney also finished eighth in the 100 fly with a career-best time of 48.65. Senior Michal Brzus (49.45) and Jackson Kuhlers (49.85) also swam to season best-times in the event.
 
Junior Hannah Burvill placed third in the 200 free with a time of 1:45.97, earning her an NCAA 'B' cut. Fellow junior Allyssa Fluit swam to a fourth-place finish behind Burvill with a time of 1:48.22.
 
Sophomore Daniel Swanepoel took fifth in the 100 breast in a season-best time of 54.39, while senior Tanner Nelson won the 'B' final in a season-best time of 55.50.
 
FLASHY FINISH
Iowa ended the day with a first-place finish in the men's 800-free relay by touching out Grand Canyon by .08 seconds for a time of 6:30.40. Mateusz Arndt, Jackson Allmon, Ben Colin, and Tenney touched in a time that currently ranks No. 1 in the nation.
 
HEARING FROM JUNIOR MICHAEL TENNEY
"I did very well for myself today, getting some personal bests. Of course to top if off with the relay was exciting. I think tomorrow will be a good day for us. We have a lot of events that people are looking forward to like the 200 fly. We should be ready to rock and roll."
 
DAY 1 TEAM SCORES (MEN)
Purdue – 586.5
Iowa – 555.5
Minnesota – 540
Grand Canyon – 525
Missouri State – 274
South Dakota – 119
South Dakota State – 85
Wisconsin – 42
Michigan State — 9
 
DAY 1 TEAM SCORES (WOMEN)
Minnesota – 764
Nebraska – 607
Iowa – 481.5
SMU – 275.5
Missouri State – 239
Grand Canyon – 211
South Dakota – 105
Michigan State – 29
Wisconsin – 20
Iowa State – 7
Nebraska-Omaha — 6
 
UP NEXT
The Hawkeyes will close out the Invitational on Saturday.  Action begins at 10 a.m./1 p.m./6 p.m. at the Campus Recreation and Wellness Center.  Admission is free.