Hawk Talk Monthly — November | 24 Hawkeyes to Watch 2018-19 | Hawkeye Fan Shop — A Black & Gold Store | Box Score (PDF) | Boxscore
WEST LAFAYETTE, Ind. — A balanced Hawkeye attack wasn't enough as the University of Iowa volleyball team fell to No. 12 Purdue, 3-2 on Saturday night.
Four Hawkeyes – Reghan Coyle, Taylor Louis, Meghan Buzzerio, and Amiya Jones – notched double-digit kills, sophomore Brie Orr had 56 assists, and senior Molly Kelly had a team-high 26 digs.
HEAR FROM COACH SHYMANSKY
"We fought like Hawkeyes this whole weekend and I am super proud of the grit and guts our team showed on the road. In the fifth set, we need to find ways to finish it out. Kudos to Purdue for defending their home court well. It's a bittersweet road finish for us. We are playing a lot better volleyball the last couple of weeks and that is encouraging for our group. I am pleased that our seniors stepped up in a better way tonight. So now we get two more matches in Carver and it's a great opportunity to get two more wins in league play."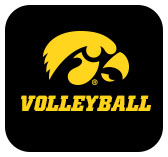 HOW IT HAPPENED
SET 1 (25-22) | Iowa gave up the first point of the set, but that was the first of only a few disadvantages the Hawkeyes saw in the first set. Iowa opened an 11-9 lead before Purdue came out on a five-point run to give the Boilermakers their biggest lead of the set at 11-15. Iowa began to crawl its way back into it, taking advantage of Purdue's mistakes, while going on its own five-point run. Senior Reghan Coyle clinched the first set with a kill and a block assists with freshman Hannah Clayton.
SET 2 (23-25) | Iowa began the second set on the wrong foot, falling behind 2-8 before calling a timeout. Iowa finally tied the score at 18 amidst a four-point run forcing Purdue to call a timeout. Out of the timeout, Iowa and Purdue traded points, but the Boilermakers capitalized on Iowa attack errors to take a 20-23 lead. Iowa looked like it was going to close the gap, but a quick attack from Purdue's right side found a gap in Iowa's defense and Purdue took the second set.
SET 3 (20-25) | Neither team allowed the other to gain any separation in the third set, with Iowa leading by as many as three points before Purdue closed the gap to tie the set at 17. Purdue had a short lead before a Buzzerio kill knotted things up at 19. Purdue scored three of the next four points and led 22-20, putting Iowa in the same scenario as the second set, but once again, Purdue ending up grinding its way to its second set win of the night.
SET 4 (25-22) | Senior Taylor Louis got things started quickly with three rapid kills to give Iowa the advantage early. Iowa held a steady lead throughout the set until a run by Purdue tied the game at 18. Iowa called its first timeout of the set after Purdue took its first lead at 19-18. Iowa tied the score right after the timeout with a kill from Buzzerio. The Boilermakers retook the lead with a kill, but only briefly as a ball handling error gave Iowa the point. Coyle took matters into her own hands and secured the final two points for Iowa, forcing a fifth set.
SET 5 (11-15) |  Iowa fell behind in the final set, but a couple kills by Louis brought Iowa within one and a crucial kill by Clayton was overturned to put Iowa in a 3-5 hole. Purdue was the first to eight points as both teams switched sides. Attack errors by Purdue and kills by Coyle and Jones brought the score within one at 9-10, but Iowa couldn't manage to tie the match as the Boilermakers stretched their lead and took the match off a block.
NOTABLES
Freshman Amiya Jones set a new career-high with 11 kills.
UP NEXT
The Hawkeyes wrap up the regular season with back-to-back home matches on Nov. 23 and 24, facing Maryland and Ohio State. Both matches are slated for a 7 p.m. (CT) first serve. Tickets for both matches are available on hawkeyesports.com/tickets.