Hawk Talk Monthly — November | Hawk Talk Daily links | Hawkeye Fan Shop — A Black & Gold Store | 24 Hawkeyes to Watch 2017-18
IOWA CITY, Iowa — Junior Mallory King runs mid-distance races for the Iowa track & field team. She specializes in the 600 and 800 meters.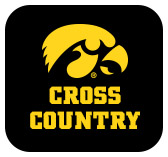 At the 2018 Big Ten Championships, King ran her collegiate-best and team-leading 600 meters (1:31.25, indoor) and 800 meters (2:08.45, outdoor prelims), ranking sixth all-time at Iowa in both events.
Complementing her athletic accomplishments, King earned Iowa's Big Ten Sportsmanship award, USTFCCCA all-academic honors, academic All-Big Ten honors (twice), and Jeff Raffensperger Dedication award (twice).
King is a native of Davenport, Iowa.
What are you most excited for this year as a Hawkeye?
"I'm most excited to make more memories with my team."
What do you want to achieve this season?
"Big Ten Champions as a team!"
Who has been the most influential to you at Iowa?
"My teammates have been the most influential because they inspire me to be better each and every day." 
If not track & field, what sport would you play?
"If not track & field, I would play soccer because I have played it all my life." 
What is one thing people don't know about you?
"Most people do not know that I have a burning hatred for cilantro."
Who is your favorite professional athlete?
"My favorite professional athlete is Antonio Brown."
Do you have any pre-meet rituals?
"Before every meet I listen to the same playlist that my sister crafted."
When you're not practicing, what is your favorite thing to do?
"When I'm not practicing, my favorite this to do is make breakfast or dinner."
If you could choose anywhere to live, where would you choose?
"Arizona because I wouldn't have to worry about running in the cold." 
How do you feel about pineapple on pizza?
"In my opinion, pineapple is great but NOT on pizza."
Who would you choose to be a part of your Family Feud team (five contestants, including you)?
"I would choose my parents and two sisters to be part of my Family Feud team."
What is your favorite meal? 
"My favorite meal is pork chops, green beans, and wild rice."