Hawkeye Fan Shop — A Black & Gold Store | 24 Hawkeyes to Watch 2018-19 | Hawk Talk Monthly — November | Box Score (PDF) | Boxscore
By JACK ROSSI
hawkeyesports.com
IOWA CITY, Iowa — The University of Iowa volleyball team capped off the regular season with a 3-2 win over Ohio State on Senior Night inside Carver-Hawkeye Arena.
Senior Reghan Coyle led Iowa with a career-high 21 kills, senior Molly Kelly added 20 digs, and sophomore Brie Orr had 58 assists.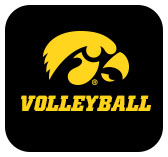 HOW IT HAPPENED
SET 1 (24-26) | Iowa and Ohio State opened the season finale with a hotly contested first set.  Neither team could gain separation with multiple ties and lead changes throughout the set. After a Ohio State timeout, Iowa took a 22-20 lead, but Ohio State tied the score up at 23 after back-to-back errors by Iowa. Seniors Taylor Louis and Reghan Coyle both recorded kills to give Iowa a small lead. Iowa and Ohio State headed to extra volleyball, but the Buckeyes kept it short with back-to-back aces to secure the set.
SET 2 (26-24) | In another close set, the Hawkeyes chased a Buckeye lead early on and tied the score at 10 thanks to an ace by junior Emily Bushman. Iowa fought to a three-point lead at 14-11 to force a Ohio State timeout. Out of the timeout, Ohio State went on their own run to tie the score at 14 and the back and forth continued as both teams looked to score past 25 for the second straight set. Iowa flipped the script this time with a service error by Ohio State and set-clinching kill by freshman Amiya Jones.
SET 3 (25-19) | Iowa opened the third set on a 6-2 run before Ohio State had time to respond. Both teams battled to an 11-11 tie where the Hawkeyes and Buckeyes traded points until a block by Jones and Louis forced Ohio State to call a timeout. Out of the timeout, Iowa, taking advantage of Ohio State errors, ended the set on a five-point run.
SET 4 (18-25) |Iowa got out to a 6-1 start in the fourth set, but Ohio State battled back to tie the score at 11 for the second straight set. The Hawkeyes struggled the rest of the set, allowing Ohio State to go on a 5-11 run to fall behind 16-21. Iowa couldn't manage any more offense for the rest of the set and fell to force a fifth set.
SET 5 (16-14) | The final set had Iowa as the first team to eight points, leading 8-6. The Hawkeyes allowed the Buckeyes to catch up and take a 14-12 lead. Iowa called a timeout and responded with a kill from Buzzerio, while Ohio State called its own timeout. Coyle recorded a kill out of the timeout to tie the game at 14 and then a block by Jones and Coyle gave Iowa its first lead since 11-10 in the fifth set. Iowa clinched the victory off a net violation on Ohio State.
NOTABLES
Senior Molly Kelly became the first player in program history to reach 600 digs in a season.
Kelly holds the highest single season dig average since 2008 (5.12).
Senior Taylor Louis ended her career as the Division I active kills leader with 1,964 kills.
Iowa played in its 10th five-set match of the season and fourth in a row. Iowa has never played four straight five-set matches in its history
 
UP NEXT
The Hawkeyes head into the offseason and will return to Carver-Hawkeye Arena in 2019.