Hawkeye Fan Shop — A Black & Gold Store | Hawk Talk Monthly — December | 24 Hawkeyes to Watch 2018-19 | FINAL
THIS SEASON
The University of Iowa volleyball team completed the 2018 regular season on Nov. 24 with a five-set victory over Ohio State on Nov. 24. The Hawkeyes finished the season with a 15-16 record and were 7-13 in conference play.
HAWKEYES TAKE DOWN NO. 6 WISCONSIN
The Hawkeyes defeated No. 6 Wisconsin in five sets on Oct. 6 for the team's first win over a ranked opponent this season. 
It is Iowa's first win over Wisconsin since Nov. 11, 2009 and first win over a top-10 team in program history.
Junior Cali Hoye led Iowa with a career-high 30 kills and sophomore Brie Orr tied a career-high with 59 assists.
IT'S STILL A HAWKEYE STATE
On Sept. 14, the Hawkeyes broke a 21-year old road drought, defeating Iowa State in four sets (25-20, 25-21, 23-25, 25-20) at the Cyclone Classic in Ames, Iowa.
It was the first time Iowa has won in Ames since Sept. 13, 1997.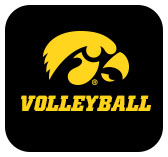 KELLY NAMED COSIDA ACADEMIC ALL-AMERICA TEAM MEMBER OF THE YEAR
On Dec. 10, the College Sports Information Directors of America (CoSIDA) announced Molly Kelly as Division I volleyball's Academic All-America Team Member of the Year.
Kelly is Iowa's fifth Academic All-American, second consecutive first-team honoree, and first team member of the year.
Kelly, a two-time academic All-Big Ten honoree, 2017-18 Big Ten Distinguished Scholar, and 2018 CoSIDA Academic All-District honoree, holds a 4.06 grade point average (GPA) in international and religious studies. 
FOLLOW THE HAWKEYES
For an inside look at the Iowa Volleyball program and access to exclusive coverage, "like" University of Iowa Volleyball on Facebook and follow 
@iowaVolleyball on Twitter and Instagram. 
LOOKING AHEAD TO 2019
The Hawkeyes are set to return 11 players with six newcomers ready to join the team. 
After a year of experience, freshmen middle blockers Amiya Jones and Hannah Clayton return to create havoc in the middle. The duo combined for 189 total blocks and 242 kills. 
Sophomore setter Brie Orr will return as an upperclassmen after two strong seasons. Orr ranks eighth in program history with 2,443 career assists.
Junior Cali Hoye will return as Iowa's most effective outside hitter after  a breakout season where she led the Hawkeyes with 3.82 kills per set and was second with 19 service aces in 21 matches.
THESE HAWKEYES ARE HANDY WITH BROOMS
The Hawkeyes went 7-6 this season in games that have gone three sets.
Iowa has swept Belmont, South Dakota State, Drake, Eastern Illinois, Michigan State, and Rutgers twice.
Iowa recorded two sweeps at the Drake Invitational on Sept. 8, defeating South Dakota State and Drake before sweeping Eastern Illinois in its home opener on Sept. 9. The last time Iowa swept three different teams in the span of two days was Sept. 19-20, 2008 (Portland, DePaul, Tulsa).
KELLY LED THE BIG TEN
Senior Molly Kelly ranked as the best libero in the Big Ten conference in 2018.
Overall, Kelly lead the Big Ten with 619 total digs and 5.12 digs per set. 
In her final match of her career, Kelly became the first Hawkeye in program history to reach 600 digs, setting a school record for digs in a single season.
Kelly's 5.12 digs per set are the highest in program history since the 25-point scoring format was implemented in 2008.
Kelly's 27 digs at Minnesota on Oct. 19 is a school record for digs in a three-set match.
Her 29 digs against No. 18 Michigan on Sept. 23 set a new career high.
NO SOPHOMORE SLUMP FOR ORR
Sophomore setter Brie Orr built upon her impressive freshman season with 1,242 assists in 2018 – the second most in program history since the 25-point scoring format was implemented in 2008.
Orr now has 2,443 career assists, which ranks eighth in program history. She trails Loxley Keala by 16 assists for seventh all-time.
On Oct. 21, Orr became the ninth player in program history to eclipse 2,000 career assists with her 19th assist in the third set against Wisconsin.
Orr finished the season eighth in the Big Ten with 10.26 assists per set.
DIVISION I ACTIVE KILLS LEADER
Senior Taylor Louis finished her career as the Division I active kills leader with 1,964 career kills. 
Louis led the NCAA by 84 (Carlisa May, Arkansas State) and was 134 kills ahead of the country's third leading player (Jaali Winters; Creighton). 
HOYE JOINS ELITE COMPANY
Junior Cali Hoye recorded two 30-kill performances this season. She is the second Hawkeye in school history to reach 30 kills twice in a single season.
Hoye's tallied her first 30-kill match against No. 6 Wisconsin on Oct. 6 and then against against Northwester on Oct. 24.
Hoye reached the milestone against Wisconsin thanks to a 13-kill second set, where she notched a .500 attack percentage (13-3-20). 
Hoye was the first player in the Big Ten this season to record a 30-kill game. 
GOING THE DISTANCE
In 2018, Iowa has played 10 matches that have lasted five sets, going 4-6 with wins over Northwestern, Wisconsin, Syracuse, and Ohio State, and dropping 3-2 losses to Lipscomb, Purdue twice, Indiana, Maryland, and Northwestern.
Iowa's 121 total sets this season was second in the Big Ten.
Iowa finished the season with four straight 5-set matches – the first time in its history to play more than three consecutive 5-set matches.
FAREWELL SENIORS
The University of Iowa volleyball team bid farewell to three seniors — Molly Kelly, Taylor Louis, and Reghan Coyle — before the team's final home match against Ohio State on Nov. 24. 
THE SENIORS
Coyle has amassed 812 kills and 222 total blocks in 119 matches during her career. The Council Bluffs, Iowa, native came to Iowa as a walk-on, earned a scholarship, and was named a team captain by the time she was a senior. Coyle ranks third on the team this season with 2.67 kills per set and 77 blocks.
Louis joined the Hawkeyes after two seasons at Marquette and made an immediate impact. Louis finished the season as the NCAA Division I active kills leader with 1,964 career kills and led Iowa with 430 kills this season.
Kelly is another walk-on turned scholarship athlete and team captain. She enjoyed a break-out year in 2018, leading the Big Ten in total digs (619) and digs per set (5.12). Nationally, Kelly was 21st in total digs. Earlier this season, Kelly set a school record for digs in a three-set match with 27.
SHYMANSKY MILESTONE WATCH
Head coach Bond Shymansky's 78 wins at Iowa is third in program history. He passed former head coach Sharon Dingman earlier this season (66).
Shymansky passed Rita Buck-Crockett for third on Iowa's all-time Big Ten wins list with his 26th victory over Northwestern on Sept. 30.
Shymansky trails Linda Shoenstedt for second in Iowa history with 85 wins and trails Sandy Stewart's 136 wins for most in program history.
FACING THE BEST
Iowa faced seven teams currently ranked in the American Volleyball Coaches Association (AVCA) week 14 poll – Minnesota (2), Illinois (3), Nebraska (6), Penn State (7), Wisconsin (8), Purdue (12), Michigan (18), and Washington (22) 
The Hawkeyes' 2018 schedule featured 11 teams that reached the 2017 NCAA Tournament.
The nonconference schedule included three teams that competed at the 2017 NCAA Tournament, including Iowa State, Colorado, and Washington.
Iowa played all eight Big Ten NCAA Tournament teams from a year ago.  Those teams combined to go 206-64 in 2017.
TRUE MENTAL TOUGHNESS
The Hawkeyes continued their True Mental Toughness mantra in 2018. Bond Shymansky's squad defines true mental toughness as having a great attitude, treating others really, really well, being unconditionally grateful regardless of your circumstances, and giving your very, very best.
THE PREMIER CONFERENCE
The Big Ten Conference has had an NCAA champion in nine of the last 15 years. 
Eight teams – Penn State, Michigan, Nebraska, Illinois, Wisconsin, Minnesota, Purdue, and Michigan State – appeared in the 2017 NCAA Tournament.