Hawkeye Fan Shop — A Black & Gold Store | 24 Hawkeyes to Watch 2018-19 | Hawk Talk Monthly — January | I-Club Events Page | VIDEO — Collin Hofacker | The More Your Know: Collin Hofacker
By DARREN MILLER
hawkeyesports.com
IOWA CITY, Iowa — If life is a game of inches, then track and field is a game of 42 inches.
 
At least it started that way for University of Iowa junior Collin Hofacker: Forty-two irritating, aggravating, annoying inches. 
 
That's the height of hurdles in any collegiate race and it was a, well, hurdle Hofacker wasn't able to overcome.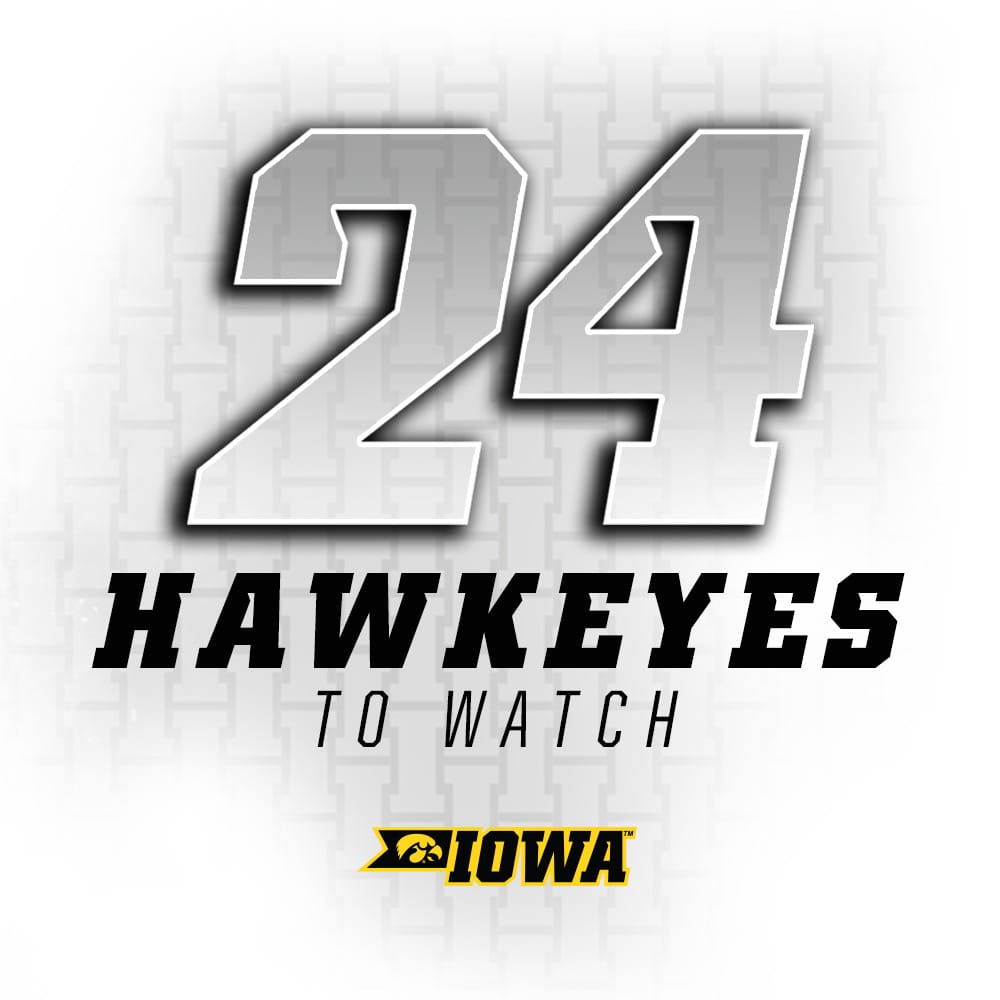 "I couldn't hurdle, I wasn't flexible enough," said the aspiring multi-event performer. "I could do most everything else, but I couldn't hurdle."
 
Fortunately for Hofacker, he had another option. He was fast enough to stay on the track once the barriers were removed. It served him well at Freedom (Wisconsin) High School, when as a senior in 2015, he won the Division 2 200-meter dash (21.32 in the preliminary), anchored the 4×400 relay to a championship in 3:21.86, and set a state record by winning the 400 in 47.76 seconds.
 
"I had decent sprint speed and I showed it my senior year at the state meet," Hofacker said. "I blew up and we knew I could sprint if I needed to."
 
What the Hawkeye coaching staff initially saw was that Hofacker long-jumped a school-record 22-feet, 8 ½-inches to go with his three sprint records. He exceled at football and was given the opportunity to walk-on at the University of Wisconsin. As a senior, Hofacker caught 47 passes for 1,029 yards and 15 touchdowns (21.9 yards per reception). In basketball, his 13 points per game as a junior and senior drew suitors from smaller colleges.
 
The Hawkeye staff was captivated by an all-around athlete who appeared a perfect fit for life as a decathlete. It was just a matter of learning technical events and letting Hofacker's athletic ability take over.
 
But first, Hofacker needed to select a school. When he and his parents sat down to weigh the options, everything led back to the sport of track and field and the University of Iowa.
 
"(Iowa) showed the most interest, the coaches were willing to talk with me the most out of everyone," Hofacker said. "I felt they cared more about me compared to other schools and I took that into consideration."
 
The Hawkeyes have a history of pilfering gems from the state of Wisconsin. In 2008, an unheralded 400-800 runner named Erik Sowinski from Waukesha, Wisconsin, attended Iowa, developed into an All-American, and is now one of the top professional middle distance runners in the United States.
 
Joey Woody, director of track and field/cross country at the University of Iowa, combs the Hawkeye state for talent first, but admits there is pleasure in plucking a student-athlete from outside the borders.
 
"It's always good when you're able to pull some athletes from other Big Ten states," Woody said. "For us, (Hofacker) has come in and done exceptional things and we want to keep doing that."
 
Not only was Hofacker required to change lanes, so to speak with his event choice, but life as a Division I student-athlete was anything from an immediate victory lap. In fact, his first season was miserable.
 
"That redshirt year is the hardest year of your life," Hofacker said. "You're in the dorms, everyone else on the team is competing and you are just stuck there. It is good for you though, it makes you go to practice and get the work done. You see what everyone else is accomplishing and you are like, next year I want to do that."
 
While Hofacker felt trapped in his dorm room, he also struggled with increasing times in the 200 and 400. Then there was that issue of not clearing hurdles.
 
"It wasn't pretty," Hofacker said. "There were multiple times I thought I broke my ankle or foot just trying to hurdle. People would laugh and I would laugh because I looked like a gazelle going over top of the hurdles. I had no clue what I was doing."
 
So Woody, one of the top hurdle coaches in the country, did the unthinkable. He took the hurdles away from Hofacker, but kept him in his training group.
 
The results have been splendid.
 
With two seasons of eligibility remaining, Hofacker is already a four-time All-American. In 2017, he ran the second leg on Iowa's 4×400 relay that placed fifth at the indoor NCAA Championships and he was third leg on the 4×400 relay that was third in the outdoor NCAA Championships with a school-record time of 3:01.91. In 2018, he ran leadoff on the Hawkeye 4×400 that was ninth at the indoor national championships and he anchored the 4×400 to ninth outdoors. In between, he was the third leg of the foursome that won the outdoor Big Ten Championship in 3:06.32.
 
"Winning Big Tens is probably the biggest highlight so far because we were chasing that the last two years," Hofacker said. "We finally got the job done.
 
"That All-America honor when we took third outdoors in 2017 at Eugene (Oregon) was the craziest race I have ever been a part of. We were the last team into the final and started in lane 1. Somehow we found a way to break through, take third, and run 3:01.91. I will never forget everyone's faces when I looked at Mar'yea (Harris), DeJuan (Frye), and E (Emmanuel Ogwo). We were all in shock because that was a full second faster than we ever ran in our lives together."
 
On the all-time Iowa lists, Hofacker has been a member of the two fastest indoor 4×400 relays (3:04.94 and 3:05.33), the fastest distance medley relay (9:33.90), and the fastest outdoor 4×400 relay. He has the fourth-fastest indoor 400 time (46.82) and the 10th-fastest outdoor 400 time (46.50).
 
"One of his goals is to break 46 (seconds) in the 400," Woody said. "To be a 45-second 400 runner will help get him to the NCAA Championships as an individual. He has been there on relays and has been a great relay leg for us, but I know one of his goals is to get to the NCAA Championships in the open 400."
 
For Hofacker, reaching that goal will be easier without those pesky hurdles in the way.