Hawkeye Fan Shop — A Black & Gold Store | Hawk Talk Monthly — January | 24 Hawkeyes to Watch 2017-18 | VIDEO — Briana Guillory | I-Club Events Page
By DARREN MILLER
hawkeyesports.com
IOWA CITY, Iowa — Briana Guillory dabbled with several sports growing up and she was unsure what to expect when she signed up for track and field as a sophomore at Deer Valley (California) High School.
 
Previously, she had attended camps for basketball, softball, and soccer. Soccer appealed to her most; she enjoyed kicking the ball, stealing it from others, and even putting a slide tackle on opponents.
 
"Probably not a great thing," Guillory said about her fixation for contact.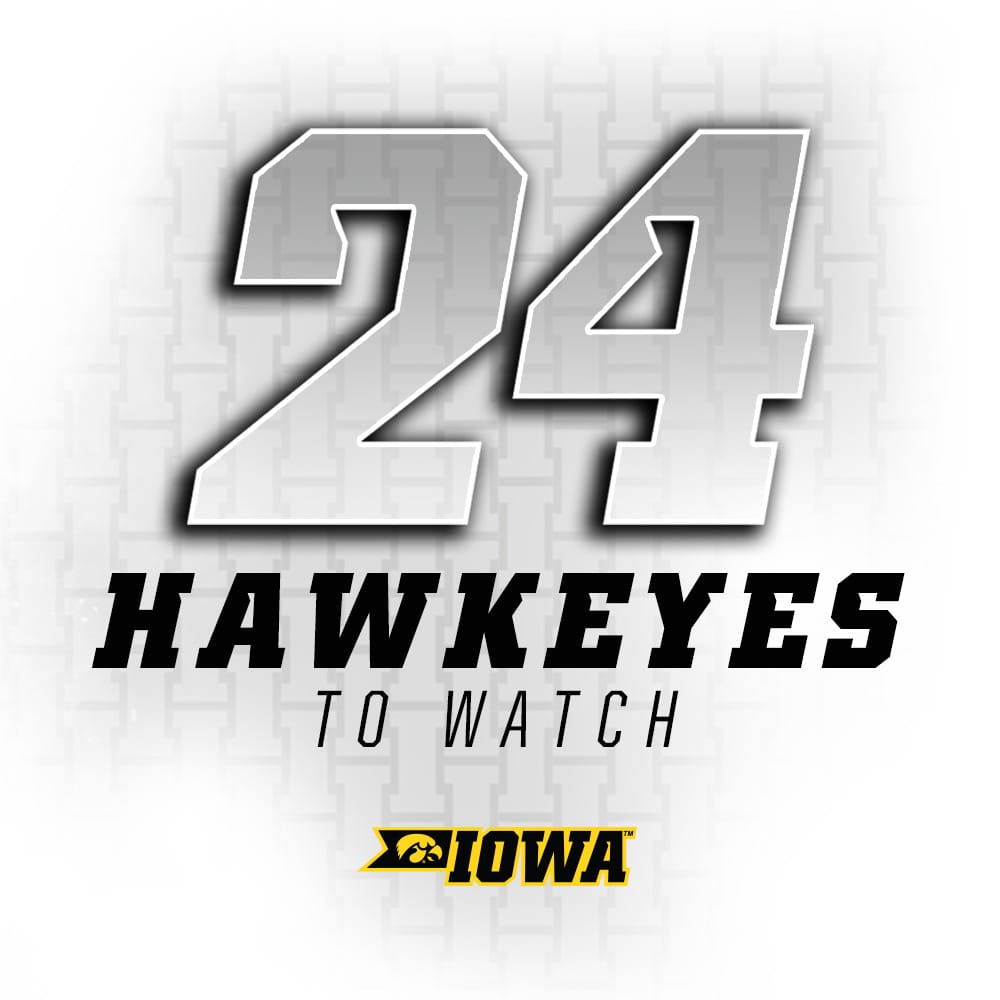 Her sport of choice turned when the Deer Valley track and field coach lined every Wolverine sprinter across the track for a run-off to see who would be in the 4×100-meter relay.
 
"I had just joined and I beat everybody," Guillory recalls. "I beat the fastest girl and she was big stuff at the high school."
 
Guillory has become pretty big stuff as well. Already a seven-time All-American and school record holder in the 400-meter dash, the University of Iowa senior is eager to finish her collegiate career in the fast lane.
 
"We don't put any numerical goals as far as, 'Hey, I want you to run this or run that' because that is putting limitations on her," Iowa associate head track and field coach Clive Roberts said. "The sky is the limit for her. We have big aspirations this year."
 
Like is often the case in recruiting, Roberts noticed Guillory's times before he started the recruiting process. After all, Guillory lived in California, a 30-hour car ride from Iowa City, Iowa. Little did anyone at Iowa know, but a plus in recruiting was the fact Iowa occasionally gets snowfall.
 
"I love the snow," Guillory said. "We had to drive for the snow in California. Here I just scoop up a snowball and throw it."
 
There's something else about Guillory that isn't widely known. In high school she not only ran, but did well, at cross country. And on the track she had success at distances up to 800 meters. At some point Guillory decided to specialize in the 100 and 200 dashes and possibly contribute a leg on the 4×400 relay. Coaches at both high school and college made sure she also entered the open 400.
 
That turned out to be a good decision.
 
At her final high school state meet, Guillory was runner-up in the 400 (54.29 seconds), ran second leg on the third-place 4×400 relay (3:45.84), and was fifth in the 200 (23.99).
 
By that time — the spring of 2015 — Guillory understood the nuances of the sport that might not have been clear when she started three years earlier.
 
"I didn't realize there was a difference between winning your heat and winning the race entirely," Guillory said. "I was like, 'Oh, I didn't just beat everybody (in the lanes) beside me, I beat everybody (in the heats) before me and after me. That is when I realized I was kind of fast."
 
Guillory made a speedy introduction into the Big Ten Conference. During the 2016 indoor season, she ran the second leg on Iowa's 4×400 relay that finished ninth at the NCAA Championships for second-team All-America honors. At the outdoor Big Ten Championships, she won the 200 dash and was the second leg on the winning 4×400 relay. She was a three-time national qualifier outdoors and was twice named second-team All-America (4×100 and 4×400 relays), as well as honorable mention in the 200.
 
After the season, Guillory was named Big Ten Freshman of the Year, team Most Valuable Performer, and Iowa's Outstanding Freshman.
 
That initial success would be tough to duplicate, but as a junior in 2018, Guillory placed sixth in the 400 meters (51.68) and was second leg on Iowa's 4×400 relay that placed ninth at the NCAA Championships (3:33.19) for two more All-America accolades. At the Big Ten Indoor Championships, she was first in the 400 (52.08) and runner-up in the 200 (23.22).
 
Guillory added a seventh All-America honor by placing 10th in the 400 dash (52.36) at the NCAA Outdoor Championships on June 7 in Eugene, Oregon.
 
As for career highlights, she is just getting out of the starting blocks.  
 
"They are yet to come," Guillory said. "Having a home meet for Big Ten outdoors (May 10-12) will be the highlight of my career. My family will be here and our (Iowa) family will obviously be here, and I think we'll get a really good crowd."
 
On June 23, 2018, at the U.S. Championships in Des Moines, Iowa, Guillory placed seventh in the 400 dash with a time of 51.30 seconds. That bettered the University of Iowa record of 51.35 set by Kineke Alexander 12 years earlier.
 
"It means a lot to me because I started to realize how much it would take to break that (400 record)," Guillory said. "Because it stood that long is enough to show that not everybody has a chance to do something like that — to have my name up there in black and gold is real nice."
 
Alexander, the last Hawkeye to win an NCAA championship, also holds the school indoor record in the 400 at 51.48 seconds. Not one to set individual goals, Guillory has made an exception when it comes to what she wants during this indoor season.
 
"I'm going after the indoor record," she said. "As long as you're doing all the little things as perfect as you can and you are being really persistent, (fast times) will come."
 
Just as impressive as being a seven-time All-American is the fact Guillory has been part of 19 relays that rank in the top 10 all-time at Iowa.
 
"She is a great worker, she puts in the work," Roberts said. "Obviously she is super-talented, but she doesn't take anything for granted. She works her butt off — everything I ask of her she does."
 
Guillory's time at Iowa is waning. Call it poetic justice, but her second-to-last outdoor meet will be held in Sacramento, an hour from where she grew up.
 
"It hasn't hit me that every meet I have this year will be my last," Guillory said. "I'm glad I get to be at home for (the NCAA West Preliminary) and that I get to see my family for a second while I'm there."
 
Guillory returns to the track Saturday at the Larry Wieczorek Invitational in the University of Iowa Recreation Building. She is scheduled to run the 400 meter dash premier (3 p.m.) and the 4×400 relay premier (7:15).