Hawk Talk Monthly — January | Hawkeye Fan Shop — A Black & Gold Store | 24 Hawkeyes to Watch | Shamrock Invitational Notes (PDF) | B1G Championships Central | Fight For Iowa
SOUTH BEND, Ind. — The University of Iowa swimming and diving team took to South Bend for the Shamrock Invitational, completing day one with standout performances from the relays and freshmen class. The team competed in two separate sessions, earning multiple podium finishes. 
The Hawkeyes are in third place with 514 points on the men's side and fourth on the women's side with 286 points. 
RELAY PERFORMANCE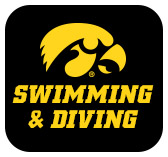 The men's 200-free relay team of Joe Myhre, Will Scott, Jack Smith, and Aleksey Tarasenko started the day with a second-place finish (1:20.22), leading the charge for exciting relay finishes. 
The team of Tarasenko, Michael Tenney, Thomas Pederson, Mateusz Arndt finished the day with another second-place finish in the 800 free relay (6:35.03). 
INDIVIDUAL SHOWOUTS
Freshman Caleb Babb led the charge in the individual events, placing fourth in the 100 breast (55.34) and ninth in the 200 IM (1:51.68). Babb's 100 breast and 200 IM were career bests. 
Tarasenko took second in the 50 free (20.21), followed by fourth place by Myhre (20.24), and seventh place Scott (20.48). 
Michael Tenney touched fourth in the 200 free with a time of 1:38.71. Junior Hannah Burvill placed fifth in the 200 free with a time of 1:49.90. 
Sophomore Kelsey Drake (55.04) and senior Kelly McNamara (55.31) swam to sixth and seventh place finishes in the 100 fly. 
HEARING FROM CALEB BABB
"We did well today. We're still in a training cycle and we're setting up for Big Tens. The relays did well today and we felt confident in the individual events. Distance did well especially the 500 group. Going into day two, we're hyped up for the 400-free relay and feeling confident for the second part of this meet. Everyone's coming together. 
"We have a real good freshmen group who are making an impact. All of us contribute in the sprints, distance, mid-distance, and relays. Everyone is contributing both in the pool and out of the water which helps us be close and vibe with the rest of the team."
UP NEXT
The Hawkeyes will resume competition tomorrow morning at 9 a.m. (CT) at the Rolfs Aquatic Center.