Hawk Talk Monthly — January | Hawkeye Fan Shop — A Black & Gold Store | 24 Hawkeyes to Watch | Shamrock Invitational Notes (PDF) | B1G Championships Central | Fight For Iowa
SOUTH BEND, Ind. — The University of Iowa swimming and diving team concluded the Shamrock Invitational with outstanding performances from diving and freshmen standouts.
 
The Hawkeye men finished third in the field with 780.5 points, while the women were fourth with 434.5 points.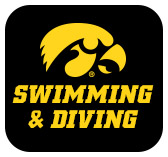 DIVING PODIUMS
Freshman Sam Tamborski and sophomore Jayah Mathews dominated the 3-meter springboard with a 1-2 sweep. Tamborski posted a score of 321.05 followed by Mathews' score of 308.20. Mathews dove to a first-place finish on the 1-meter followed by a fourth-place showing from Tamborski (272.25) and sixth-place from Thelma Strandberg (266.75).
 
Senior Will Brenner (320.70) and sophomore Anton Hoherz (312.80) took second and fourth off the 1-meter springboard. Hoherz placed third on the 3-meter with 339.55 points, followed closely by Brenner with 339.50 points.
 
INDIVIDUAL SHOW OUTS
Senior Abbey Schneider (17:26.85) and freshman Andrew Fierke (15:52.10) began the day with two third place finishes in the 1,650 free.
 
Freshman Aleksey Tarasenko swam to a second-place time of 43.89, a new collegiate best. Tarasenko was followed by fourth-place Steve Fiolic (44.81) and sixth-place Joe Myhre (44.82).
 
Freshman Caleb Babb touched third in the 200 breast, earning a lifetime best time of 2:01.11.
 
HEARING FROM ABBEY SCHNEIDER
"We performed well overall as a team. We scored more points than we did last year, but with a smaller team. I'm proud of everyone all together and think we had a lot of great racing this weekend. Personally, I believe I had some good and some bad swims, but I feel faster at this point than I did last season. Lauren McDougall has been doing well and it is fun having her as a new member of the team.
 
"It's tough going up against competition that is suited while we aren't, but everyone stepped up and raced well overall. I feel confident going into the last portion of the season. It has been such an awesome season and I know we are all ready to perform at our best."
 
UP NEXT
The Hawkeyes will host Western Illinois and Northern Iowa at the Campus Recreation and Wellness Center on Feb. 1.