Hawkeye Fan Shop — A Black & Gold Store | Hawk Talk Monthly — February | I-Club Events Page | 24 Hawkeyes to Watch 2017-18 | Track & Field Notes
By DARREN MILLER
hawkeyesports.com
IOWA CITY, Iowa — Prior to Feb. 1, no University of Iowa women's track and field multi-event performer had scored more than 4,000 points in the pentathlon. By the end of that day, two Hawkeyes had done it with senior Tria Simmons owning the school record with 4,220.
 
Iowa's previous mark was set by Tammilee Kerr with 3,974 points in 2008. At the Frank Sevigne Husker Invitational on Feb. 1, Simmons was followed closely by junior teammate Jenny Kimbro with 4,123 points.
 
"I always knew the record was achievable," Simmons said. "When I came to this meet, I knew one of us was going to break it."
 
Her prediction was correct. Warm-ups went well for Simmons, so did the first event, the 60-meter hurdles. Kimbro won the hurdles and Simmons was fifth with a personal-best time of 8.55 seconds (1,006 points).
 
"Hurdles really get me going," Simmons said. "It gets me pumped and ready. After I PRd in hurdles, I knew I had to continue that momentum."
 
Even before the hurdles competition, Iowa assistant coach Paige Knodle noticed something special in Simmons.
 
"Her mindset coming into the day," Knodle said. "Normally she gets a little nervous for competition and I saw a different side of her this meet. She stepped up to the plate from event one and continued that all the way through the 800."
 
The second event was the high jump — a Simmons specialty — and she won with another personal best of 5-foot-10 (953 points). She followed that with her third PR by putting the shot 37-10 ½ for second (631 points). Simmons closed the competition by placing second in the long jump (19-2 ¾, 807 points) and fourth in the 800-meter run (2:20.01, 823 points).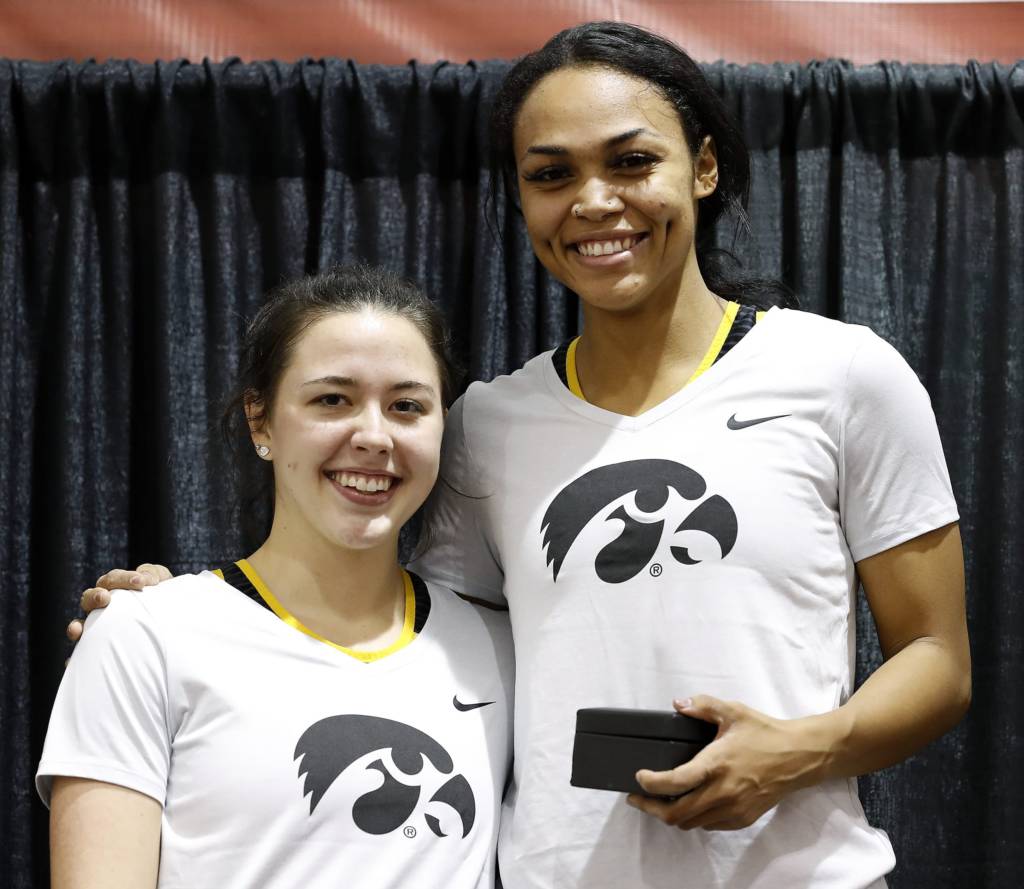 Her result erased a school record that had stood for more than a decade.
 
"It is always a great feeling," Simmons said. "If I can, I would do it again, but next time I feel I can improve in some other events — the two events I didn't PR in, so there is room to improve."
 
Simmons came to Iowa from Phoenix, Arizona, where she intended to compete in the high and long jumps. Associate head coach Clive Roberts, who recruited Simmons, suggested she try the pentathlon indoors and the heptathlon outdoors.
 
The multi-event duo of Simmons and Kimbro has bolstered the Hawkeyes. They sit first and third in the Big Ten Conference in the pentathlon. The next time the Hawkeyes put all five events together will be at the Big Ten Indoor Championships on Feb. 22 in Ann Arbor, Michigan.
 
"Having Jenny around is fun and a blessing," Simmons said. "We're like partners working together on and off the track. We support each other."
 
In the 2018 Big Ten Championships pentathlon, Kimbro was fourth (3,930) and Simmons was fifth (3,848). At the 2018 outdoor championships, Simmons was eighth in the triple jump (40-11 ¾), but did not finish the heptathlon. She had 4,086 points through five events, but fouled all three times at javelin and did not run the 800.
 
Kimbro was eighth in the Big Ten heptathlon with 4,982 points. Like Simmons, she fouled all three javelin throws.
 
"Their big thing is they want to redeem themselves a little bit from Big Ten outdoor last year," Knodle said. "I know they have big goals going into indoor this year. Being able to put up those marks so early in the season helps build a confidence going into the indoor conference meet as well."
 
The Hawkeyes will split their team this weekend. While some will be at the Iowa State Classic in Ames, Iowa, Simmons will compete Saturday in the triple jump (noon, CT) and 4×400 relay (3:30) at the Tyson Invitational in Fayetteville, Arkansas.