Hawkeye Fan Shop — A Black & Gold Store | Hawk Talk Monthly — February | 24 Hawkeyes to Watch | 2019 Big Ten Championships Central | Complete Notes (PDF) | Fight For Iowa
By ANDREW BREITFELDER
hawkeyesports.com
 
BLOOMINGTON, Ind. — Championship season begins Wednesday with goals and aspirations for the University of Iowa women's swimming and diving team. 
The Hawkeyes open the 2019 Big Ten Championships on Wednesday night in Bloomington, Indiana.
 
Iowa boasts a number of veterans with Big Ten experience, but a competitive edge and close bond make this year's championships different from last season. A young team, soon to be even younger, looks to make a mark in the Big Ten.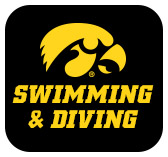 "We are doing well with the atmosphere here being incredible," said sophomore Jayah Mathews, who has been a three-time Big Ten Diver of the Week this season. "I've improved a lot as an athlete and as a person, which I think will carry over into the end of the season."
 
Iowa's divers have excelled on the boards throughout the season, posting 16 individual victories.  Eight have come from Mathews.
 
"We are ready for Big Tens," said diving coach Todd Waikel. "The women have been working hard since the beginning of September and now we have the fun, exciting time of the season. What better place for the members of this team to achieve their potential than at a conference meet."
 
All swimmers will "suit up" and be tapered for the Big Ten Championships, setting up for significant time drops.
 
"I'm excited to race fully tapered," said sophomore Kelsey Drake, an Iowa school record holder in the 100 fly. "I want to get into the top eight in the 100 fly and make it to NCAAs. We're all ready to go race and show what Iowa is all about."
 
The NCAA Championships mark the finale of the college swimming season, a prestigious and challenging meet where the best of the country face off one final time for the year. Junior Hannah Burvill is a seasoned veteran, having qualified individually last season in the 200-yard freestyle.
 
"I feel better now than I felt going into the Hawkeye Invitational," said Burvill. "Hopefully, I'll one up all my times from earlier this season and break 1:44 again in the 200 free, which is a big barrier to break. Bettering my times is my ultimate goal, and if it gets me to the 'A' finals then so be it."
 
Mathews, Drake, and Burvill all sit within the top-10 conference ranks in their respective events leading into the championships. Mathews holds the highest marks, ranking No. 1 off the 3-meter and No. 3 off the 1-meter.
 
All three Hawkeyes have the potential to break school records, two of which were set at the Hawkeye Invitational back in November in the 50 free (Burvill, 22.55) and 100 Fly (Drake, 53.12).
The Big Ten Championships begin Wednesday at 5:30 p.m. (CT) from the Counsilman Billingsley Aquatics Center.  Prelims will begin at 10 a.m. Thursday through Saturday, followed by 5:30 p.m. finals each night.
 
BTN Plus will stream every session, Wednesday through Saturday's prelims.  Saturday's finals will stream online via BTN2Go and will re-air on BTN on Sunday.