Hawkeye Fan Shop — A Black & Gold Store | Hawk Talk Monthly — February | 24 Hawkeyes to Watch | Finals Photo Gallery | B1G Championships Central | Photo Gallery | Thursday Finals Results (PDF) | Fight For Iowa
IOWA CITY, Iowa — The University of Iowa men's swimming and diving team swam to team-wide personal records on day two of the Big Ten Championships on Thursday at the Campus Recreation and Wellness Center.
 
PROGRAM RECORDS
Freshman Anze Fers Erzen solidified his position in the Iowa record books with a 1:46.92 200 IM in finals, earning second-place all time. Senior Kenneth Mende (1:47.42) and sophomore Daniel Swanepoel (1:47.80) earned third and fifth place in the record books after swimming personal records in prelims.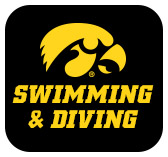 Junior Michael Tenney (4:21.20) and freshman Mateusz Arndt (4:21.31) both swam to NCAA 'B' qualifying standards in the 500 free, earning sixth and eighth-place in program history with new personal records.  Tenney led the team, finishing 11th overall, while Arndt was 12th.
 
Freshman Andrew Fierke also snuck into the record books at ninth with a personal record of 4:21.62 in the 500 free.
 
SPRINTING BESTS
Juniors Joe Myhre (19.65) and Will Scott (19.73) sprinted their way into the record books at third and seventh in the 50 free all-time in prelims. Myhre tallied a 10th place finish.
 
Freshman Aleksey Tarasenko also broke his way into history at ninth all-time with a time of 19.83.
 
The 400-medley relay team of Mende, Swanepoel, Tenney, and Myhre took seventh-place overall with a time of 3:09.35. The relay team now ranks third in program history. Mende led off the relay with a season-best time of 46.82 seconds, just off his career-best time of 46.79.
 
DIVING SPRINGS TO SUCCESS
Sophomore Anton Hoherz dove to eighth overall off the 1-meter springboard with a score of 320.65. Hoherz posted a score of 340.70 in the trials. Senior Will Brenner placed 10th overall after a consolation finals score of 357.45.
 
HEARING FROM ANZE FERS ERZEN
"The atmosphere around the team was amazing. I felt better tonight than I did this morning, which is to be expected at a meet like this. Everyone is doing their job to the best of their ability. As a (freshman) class, we're adjusting well. I'm focused on having a lot of fun for the remainder of this meet and making finals in the rest of my events."
 
HEARING FROM HEAD COACH MARC LONG
"I'm proud of how we raced today, especially since we're so young. In every event we stayed the same or moved up to do what we needed to score points. We're getting stronger with depth. All our events, including the boards, performed at their best today and bumped us up a few spots in the standings. I'm excited to see what's to come."
 
STANDINGS
Iowa currently stands in sixth place with 235 points. Indiana leads the conference with 544 points.
 
ORDER OF EVENTS
 
Friday, March 1 | Prelims – 11 a.m. (CT) | Diving – 1 p.m. (CT) | Finals – 6:30 p.m. (CT)
100-yard butterfly (Prelims/Finals)
400-yard individual medley (Prelims/Finals)
200-yard freestyle (Prelims/Finals)
100-yard breaststroke (Prelims/Finals)
100-yard backstroke (Prelims/Finals)
3-meter diving (Trials/Finals)
200-yard freestyle relay (Finals)