Hawkeye Fan Shop — A Black & Gold Store | Hawk Talk Monthly — March | 24 Hawkeyes to Watch | Fight For Iowa
IOWA CITY, Iowa — Sophomore Jayah Mathews qualified for the NCAA Championships off the 1-meter springboard on day two of the NCAA Zone D Diving Championships at the Lee & Joe Jamail Swimming Center.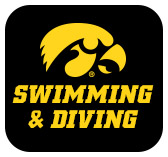 TOP FINISHES
Mathews highlighted the performances for the women after taking fourth overall on the 1-meter springboard with an overall score of 577.75, qualifying for the NCAA Championships.  She posted scores of 290.75 (prelims) and 287.10 (finals) to move on in her second event. Mathews also advanced to the NCAAs on the 3-meter on Monday with a score of 664.45.
 
Junior Thelma Strandberg and freshman Sam Tamborski also finaled in the event. Strandberg finished 13th with a score of 552.35, followed by Tamborski, who finished 18th with 519.25 points.
 
Senior Will Brenner finished 15th off the 3-meter springboard with a score of 643.50. He followed up his prelim score of 334.20 with a 309.30 in finals.
 
ADDITIONAL FINISHES
Sophomore Claire Park (229.90), senior Jacintha Thomas (224.85), and freshman Jolynn Harris (224.45) rounded out the preliminaries on the 1-meter springboard.
 
Sophomore Anton Hoherz finished with a prelim score of 315.00 off the 3-meter, followed by sophomore Jonatan Posligua (267.15), who closed out the boards for the Hawkeyes.
 
UP NEXT
Action resumes tomorrow for the final day of the NCAA Zone D Diving Championships with both men's and women's platform competitions. Follow live results on divemeets.com.