Hawkeye Fan Shop — A Black & Gold Store | Hawk Talk Monthly — April | 24 Hawkeyes to Watch 2018-19
By RICK BROWN
hawkeyesports.com
 
RIVERSIDE, Iowa — Mike and Mary McCarty bought a nine-hole golf course in West Branch when their son, Sean, was 3 years old.
 
"I grew up on that course," Sean said. "I think of all the time they spent getting my brother (Chad) and I around to golf tournaments. I don't think mom missed many of them. She was working another job and worked at the golf course, too. I look back at all the time they spent to give Chad and I an opportunity to play golf. They put a lot into it."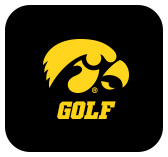 Mike passed away in May of 2008. He had just teed off on the 7th hole at the family's Greenview course when he had a fatal heart attack. His sons had built that tee at his request. Mary had passed away six months earlier from ovarian cancer.
 
Both were on Sean's mind April 4 when he was inducted into the Iowa Golf Hall of Fame during a ceremony at Riverside Casino Resort and Conference Center.
 
Sean, 46, who has been at Brown Deer in Coralville since 2001 and is now the director of golf, would be the first to tell you that he was honored by the induction because of the opportunities his parents provided.
 
"Absolutely," Sean said.
 
A four-time letterman (1992-95) on the University of Iowa golf team, McCarty was the Big Ten's freshman of the year in 1992 and a two-time all-conference selection (1992, 1995). He was elected to the National Iowa Varsity Club Hall of Fame in 2016.
 
Chad was a three-year letterman for the Hawkeyes and still holds the school record for the lowest round ever shot, a 62 at the Johnny Owens Invitational in 1997.
 
One of Sean and Chad's Iowa teammates was Brad Heinrichs. Last December, Heinrichs made a $500,000 gift to the University of Iowa men's and women's golf programs. The money will be used to renovate the varsity golf outdoor practice area at the Hoak Family Golf Complex. It will be named the Mike and Mary McCarty Outdoor Golf Practice Area.
 
"He's given his money, not in his name or his family's name, but in honor of our parents," Sean said. "Chad and I were both ecstatic about it."
 
Sean started playing tournament golf at 7 years old, when he entered and won his age division at the Larry Crawford State Pee Wee Championships in Grinnell.
 
McCarty started working as Greenview's golf course superintendent when he was 15 years old, and thought seriously about pursuing that line of work after college.
 
"I was thinking about not playing professional golf," Sean said. "My parents said, 'Why don't you give it try? If it doesn't work out, you can go back to taking care of the golf course.' In hindsight, I'm glad I made the decision I did."
 
A three-time state high school champion at West Branch, McCarty has been a dominant played in Iowa Section PGA events. He has been Iowa Section Player of the Year nine times. He has won both the Iowa Open and Herman Sani Tournament four times, as well as the 1998 Waterloo Open and 2012 Iowa Section Championship.
 
McCarty has also played in the 2002 U.S. Open and 2018 PGA Championship and has made numerous appearances in the John Deere Classic. He got into the PGA Championship after finishing second at the 2018 National PGA Professional Championship in Seaside, California.
 
In addition to working as a green superintendent, playing professional golf, working at a golf course and teaching, McCarty is also the boys' and girls' golf coach at Liberty High School in North Liberty.
 
Returning to his alma mater as the Hawkeyes' golf coach is his dream job. He's also contemplating a run at professional golf on the senior level when he turns 50, if his body holds up. McCarty has struggled with back issues for much of his career.
 
"Last season was one of my best years professionally," Sean said. "I showed I can compete against some of these younger guys. It's not easy, but I'm a competitor."
 
During his acceptance speech April 4, McCarty talked about his parents. And he got emotional discussing his own family — wife, Mundi, daughters Reed and Grace and sons Mac and Jack.
 
They've been Sean's support system on the golf course, just like Mary and Mike McCarty were many years earlier.