IOWA CITY, Iowa – University of Iowa Athletics announced Wednesday details for the "Hawkeye Football Spring Practice Report" radio show, which will take place Wednesday, April 24, from 6:30-8 p.m. (CT).
 
The show will be hosted at the VUE Rooftop at Hilton Garden Inn in Iowa City. The VUE Rooftop will become the new home of Hawk Talk with Kirk Ferentz beginning this Fall and will air each Wednesday night from 6:30-8 p.m., during the season.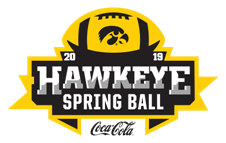 Play-by-play announcer Gary Dolphin and head coach Kirk Ferentz will discuss spring practice and answer emailed and social media questions. The show is open to all fans.
 
Fans can submit questions by emailing to info@hawkeyesportsproperties.com, or by posting to the Hawkeye Sports Properties Facebook page.
 
The "Hawkeye Football Spring Practice Report" can be heard across the Hawkeye Radio Network. The show will also be recorded and played back on KCRG-TV 9.2 with details to be announced later.