Hawk Talk Monthly — April | Hawkeye Fan Shop — A Black & Gold Store | 24 Hawkeyes to Watch | Musco Twilight Note Book
By DARREN MILLER
hawkeyesports.com
IOWA CITY, Iowa — The disappointment of not making the 2019 NCAA Indoor Championships in the shot put could be the best thing to happen to University of Iowa junior Nia Britt.
 
"That motivated me," Britt said of her throw of 54-feet, 11 ½-inches Feb. 23 at the Big Ten Championships in Ann Arbor, Michigan.
 
Britt placed fourth in that competition, and the mark moved her to 20th on the NCAA performance chart. Only the top 16 advanced to nationals.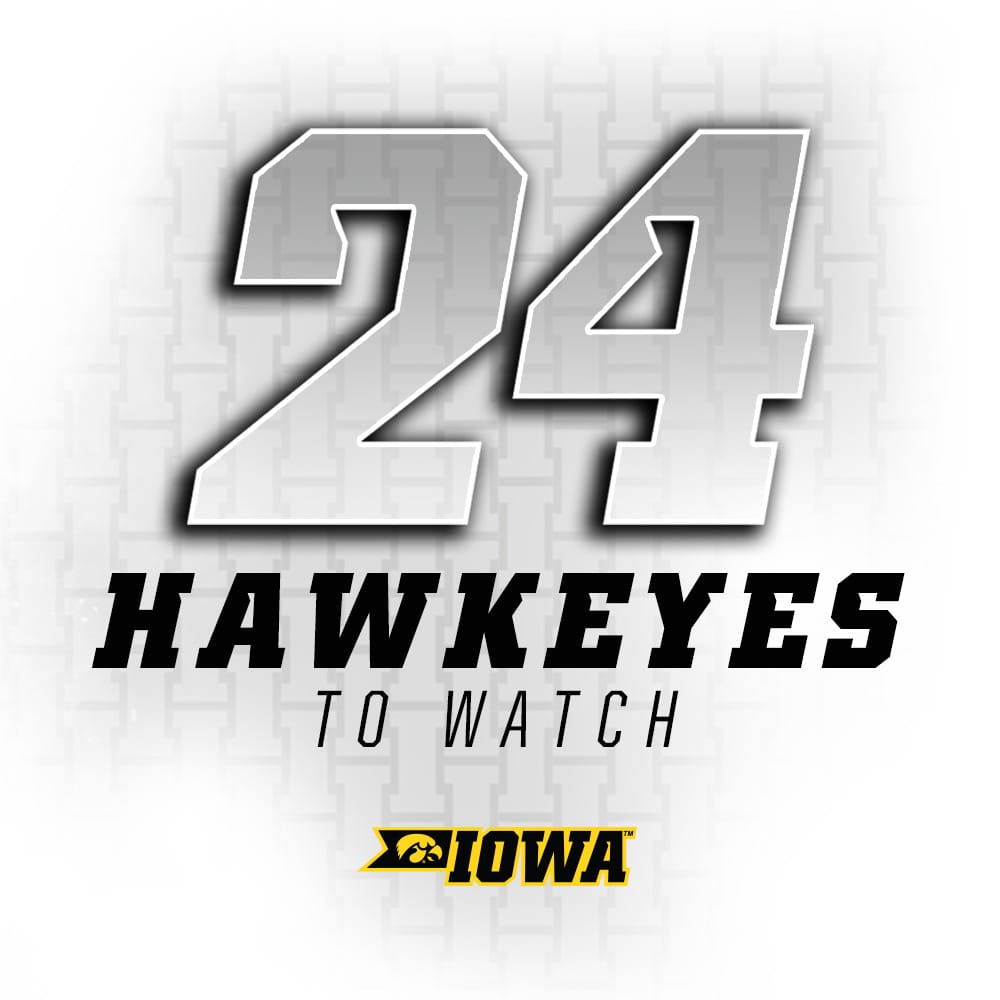 "I know there is more in the tank for me," she added.
 
Her throw ranks second in school history behind the 58-4 ½ toss by junior Laulauga Tausaga.
 
"I came in (to the Big Ten Championships) ranked ninth or 11th and that's not scoring," Britt said. "I finished fourth (and scored five points). That was a big highlight for me."
 
The personal best comes on the heels of another milestone. Britt also placed fourth at the Big Ten Conference Outdoor Championships on May 12 in Bloomington, Indiana, with a throw of 54-2 ½.
 
"My freshman and sophomore years were terrible in my opinion," Britt said. "My mindset and how I was performing wasn't what the coaches and everyone else expected of me. I was having a hard time because I was never progressing. I was always in one spot, and that messed with me because I knew I could do better."
 
Britt's fortunes improved once she became a spinner in the ring instead of a glider. She originally balked at the move because it relied on a technique she had yet to perfect. As Britt's technique improves, so do her distances. She opened her outdoor shot put season by throwing 51-5 ¾ at the Pepsi Florida Relays on March 30 in Gainesville, Florida.
 
All these efforts have occurred while Britt heals from an injured index finger on her throwing hand. While that happens, Britt is busy working on a secondary event, the hammer throw.  
 
"We are slow-playing the shot put with her," Iowa throws coach Eric Werskey said. "She started off well at Florida, now her secondary event is starting to take off for her, too. She sees she can be a two-event person within the Big Ten meet and be a national qualifier for the shot put as well."
 
Britt is a member of a successful, cohesive, and sometimes overly fun throws group that includes junior Erika Hammond, freshman Amanda Howe, sophomore Marissa Mueller, sophomore Konstadina Spanoudakis, Tausaga, and junior Allison Wahrman.
 
"We have a lot of fun," Werskey said. "Sometimes I have to tell them to chill a little bit, but they all get along, we work hard, and we get positive results at the end of the day, so it is a fun environment."
 
Britt is from Sherman Oaks, California, and she is one of the few people who celebrated a snow storm on her official visit. The adverse weather forced her to stay another day in Iowa City.
 
"I was having so much fun, and I was so happy I stayed an extra day," Britt said.
 
Even before the visit, she had respect for Iowa's program. After becoming a state finalist in the shot as a freshman and sophomore at Alemany High School in Mission Hills, California, Britt became somewhat of a question on the recruiting trail. Because of school transfers from Alemany to Sierra Canyon, back to Alemany, and then to Notre Dame, she was only eligible to compete at the junior varsity level as a junior. Her two ACL and meniscus repairs added to the lack of recruitment.
 
"Before my first injury, I had a lot of offers," Britt said. "Once schools started to find out about my injury, I wasn't getting as many calls. Iowa stuck with me through my injuries. When I started to come back my senior year, the schools who had fallen off started calling back, 'Oh, how's your knee?' I was like, now you're here? I forgot you existed."
 
The Hawkeyes are coming off a third-place finish at the Big Ten Indoor Championships, and Britt is focused on a conference team title when the outdoor meet returns to Iowa City on May 10-12. She has been a placewinner at the two most recent league championships, and now she's looking to add points in two events.
 
"I feel good that I am able to contribute in both events," Britt said. "We have a chance of winning Big Tens, so hopefully I can show up and do what I have to do to get points."
 
The Big Ten Championships is the beginning of the postseason. Last year she got her feet wet at the first round of nationals, and Britt wants to extend her season into June for the first time in her career at the NCAA Outdoor Championships in Austin, Texas.
 
"I will continue to believe in the methods of my coach and make sure my teammates and I are ready to go when it's time," Britt said. "I want to stay focused, train hard, and be ready and prepared when Big Ten, regionals, and Austin comes."
 
The Hawkeyes host their only home outdoor meet Saturday with the 20th annual Musco Twilight Invitational at Francis X. Cretzmeyer Track. Action begins at noon (CT) with the final event scheduled to begin at 7 p.m.