Hawkeye Fan Shop — A Black & Gold Store | Hawk Talk Monthly – May | 24 Hawkeyes to Watch
IOWA CITY, Iowa — The University of Iowa volleyball team's 2019 recruiting class has been ranked 24th in the nation, according to prepvolleyball.com. The ranking is Iowa's highest in program history.
Iowa's 24th-ranked recruiting class welcomes eight newcomers including, Joslyn Boyer, Jaedynn Evans, Emma Grunkemeyer, Kyndra Hansen, Emma Lowes, Blythe Rients, Grace Tubbs, and Edina Schmidt.
 "This is a tremendous class for Iowa volleyball and adds talent, height, skill and tenacity," Iowa head coach Bond Shymansky said. "This group of new Hawkeyes know how to win and have the competitive character that we know are essential to succeeding in the Big Ten.  We will enhance our Mission of True Mental Toughness with this great group of people and look forward to seeing them in black and gold."
In total, the Hawkeyes are bringing in three middle blockers, two outside hitters, and three defensive specialists.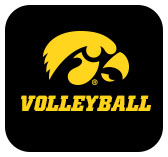 Emma Grunkemeyer
Middle Blocker | Omaha, Nebraska
"Emma is very long and strong at the net and recently won a State Championship title in Nebraska.  She has a strong commitment to excellence in every aspect of her life, and she will add a dimension of blocking and slide hitting to our right side arsenal.  We have high expectations for Emma as a Hawkeye." – Coach Shymansky
Kyndra Hansen
Outside hitter | White Bear Lake, Minnesota
"Kyndra is a fantastic six rotation outside hitter and will certainly vie for playing time early in her career.  She has a heavy arm, strong passing platform, and great volleyball IQ.  Kyndra has the right compliment of skills to be a rock within our system and a rock star within the league." – Coach Shymansky
Joslyn Boyer
Defensive specialist | Downers Grove, Illinois
"Joslyn is a dynamo on and off the court.  Her competitive spirit and tenacity will be a great addition to our back row group.  She has fast feet, great vision, and puts her sweat on the floor every play.  Joslyn will enhance our defensive grit and extend rallies as a Hawkeye." – Coach Shymansky
Emma Lowes
Defensive Specialist | McKinney, Texas
"Emma is a true teammate and great back row player.  We appreciate that she's developed her love for Hawkeye VB all the way from Texas, and we expect she will bring a strong court presence, skilled passing, and great attitude.  Emma is the type of player and person who gives to her team tirelessly." – Coach Shymansky
Blythe Rients
Middle Blocker | Eagan, Minnesota
"Blythe is a dynamic and explosive athlete.  She has tremendous versatility and works as hard at the net as any player I've seen.  Blythe is the complete package, and the consummate student-athlete.  We expect her to add to our entire team culture on and off the court, and look for her to impact our line-up early in her career." – Coach Shymansky
Grace Tubbs
Middle Blocker | Clinton, Iowa
"Grace is at home as a Hawkeye, and right where she should be.  As the player of the year in her conference, she has worked hard to develop into a charismatic team leader, an aggressive attacker, and a shutdown blocker.  Her length and developing athleticism provide a bright future for her in our program.  We expect Grace to add her uniqueness to our volleyball family." – Coach Shymansky
Edina Schmitd
Outside Hitter | Berlin, Germany
"Edina is able to play six rotations for the Hawkeyes. Her long, steady platform and strong arm will propel her to success as a Hawkeye." – Coach Shymansky
Jaedynn Evans
Defensive Specialist | Iowa City, Iowa
Evans joins the Hawkeyes after earning four consecutive All-District nods and was named honorable mention All-State following her junior year. Evans finished her senior season with 390 kills, 54 aces, and 47 total blocks.