Hawk Talk Monthly – May | 24 Hawkeyes to Watch 2018-19 | Hawkeye Fan Shop — A Black & Gold Store | Day 2 Practice Photo Gallery | Championship Central | Day 1 Practice Photo Gallery | NCAA Notebook | Austin Bound with High Expectations | Nothing Compares to Mar'yea | 24 Hawkeyes to Watch: Nia Britt
 
 
By DARREN MILLER
hawkeyesports.com
AUSTIN, Texas — 'No pain, no gain' isn't a motto University of Iowa junior Nia Britt enjoys, but she is willing to live with it as long as her results remain strong.
 
At an indoor track and field meet four months ago, Britt injured a finger on her right (throwing hand). She has adopted a conservative approach to training and competition in the shot put and even though the condition has improved, plenty of discomfort exists. It hasn't stopped her from advancing to college track and field's biggest stage.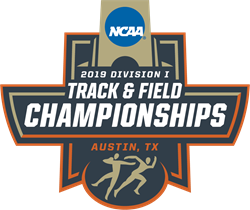 "It still hurts, but I have come to the realization that it is going to hurt, there is nothing else I can do right now," Britt said Monday during practice at Mike A. Myers Stadium. "If my finger hurts and I throw far, I'm cool. I have the summertime to rest it. It has been a painful struggle, but it is turning out well."
 
A new taping technique has helped. So has training with a four-pound "towel ball." But the best medicine to soothe the persistent pain is a 55-foot throw, which she accomplished on her third and final attempt at the NCAA West Preliminary on May 25 in Sacramento, California.
 
"I was like, you just have to throw this thing," Britt said. "What can you lose at this point? I threw it, hit 55 (feet) and I was going crazy."
 
To be exact, it was a personal-best effort of 55-feet, 7 ¾-inches. It elevated Britt into seventh place and meant for the first time in her career she would advance to the NCAA Championships.
 
"She is in shape to do something really good, so I think there is distance left to get," said Eric Werskey, Iowa throws coach. "It is a matter of embracing the atmosphere (at the NCAA Championships) and executing the minor cues we already have. The work has been done."
 
A downside to Britt's big throw is that it knocked teammate Laulauga Tausaga into 13th and only the top 12 from each region advance to Austin. Tausaga placed fourth at the 2018 NCAA Championships in Eugene, Oregon, with a throw of 56-10 ¾.
 
"This is my first time coming (to the NCAA Championships), so I'm excited," Britt said. "I had goals of coming last year, but it just didn't work out. Regionals was a great experience and it got me hyped for this meet. It sucks that Lagi couldn't be here, but I'm going to do my best for myself, her, coach Werskey, and the team."
 
The successful (albeit painful) outdoor season Britt has enjoyed was motivated by disappointment. At the Big Ten Indoor Championships on Feb. 23, she threw 54-11 ½, placed fourth, and moved to 20th on the national performance chart. The cutoff for indoor nationals was top 16.
 
At the time, Britt knew bigger things were ahead. She placed seventh at the Big Ten Outdoor Championships on May 12 (52-1 ¼), then PR'd at the NCAA West Preliminary.
 
"Before last year, I didn't know what would happen because my career wasn't really moving at all or getting any better," Britt said. "But what I accomplished last year gave me hope and even though I didn't make it to nationals, it motivated me to be able to make it this year and do better overall."
 
Britt competes in the women's shot put Thursday at 9:10 p.m. (CT). She is the second thrower in the first flight.
 
"My goal is to make it finals," Britt said. "It would be great to be top eight, but making it to finals is my first legit goal."
 
FOLLOW THE HAWKEYES
Fans can follow the NCAA Championships live results on hawkeyesports.com/tracklive. Live stats and a live stream for the meet are also linked on the Iowa track and field schedule page, hawkeyesports.com/trackschedule, and posted on the team's official twitter account @iowaxc_tf.