Hawk Talk Monthly – May | 24 Hawkeyes to Watch 2018-19 | Hawkeye Fan Shop — A Black & Gold Store | Championship Central | Day 1 Practice Photo Gallery | Austin Bound with High Expectations | Live Results | Nothing Compares to Mar'yea | ESPN3 | Day 2 Practice Photo Gallery | This is an NCAA Finalist Calling | Wednesday Results (PDF) | Photo Gallery (Day 1)
AUSTIN, Texas — University of Iowa track and field junior Nathan Mylenek is headed to his first NCAA Championships final after qualifying in the 3,000-meter steeplechase on Wednesday.
Mylenek's 8:48.19 finish was the sixth fastest in his heat and of the day. The steeplechase consisted of two heats, which automatically qualified the top five from each heat and added the next two fastest time out of either heat. All of the top seven competitors from Mylenek's heat will move on to the final round on Friday at 7:54 p.m. (CT).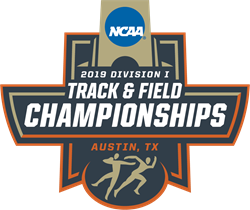 "Nate ran an extremely gutsy race in this brutal heat to qualify to his first NCAA final in the steeple," Iowa Director of Track and Field Joey Woody said. " I am extremely proud of the way he competed."
 
The men's 1,600-meter relay, consisting of freshman Wayne Lawrence, juniors Antonio Woodard and Karayme Bartley, and senior Mar'yea Harris ran the second fastest time of the day and second fastest time in Iowa history. Their 3:01.99 qualifies the Hawkeyes through to the finals on Friday at 9:51 p.m.
 
"After the individual events didn't go how we expected, I was very proud of how the guys fought back and competed to run the second fastest 1,600-meter relay at Iowa, and they qualify with the second fastest time going into the finals."
 
ALL-TIME MOVEMENT
The Hawkeyes recorded two additional all-time marks, including the men's 400-meter relay with the second fastest time, 39.17, on the Iowa top-10 list, and Bartley tied his fourth ranked time of 20.51 in the 200 meters. They will not advance to the finals.
 
"We had a great start to the day almost qualifying to the finals in the 400-meter relay and just missing the school record," Woody said. "I know Karayme wanted more, but to just miss the final with the fourth fastest time at Iowa is impressive."
 
ALL-AMERICAN STATUS
Four Hawkeyes' earned second team All-American honors including junior Jaylan McConico, Harris, Lawrence Jr., and Bartley. McConico  finished 11th (13.69) in the 110-meter hurdles, Harris finished 11th (454.58) in the 400 meters, Lawrence finished 14th (46.05) in the 400 meters, and Bartley finished 16th in the 200 meters.
 
Junior Antonio Woodard ran in his first NCAA Championship 200 meters, finishing 18th to earn honorable mention All-American honors.
18. Antonio Woodard – 200 meters (20.68)
 
HAWKEYES' NCAA SCHEDULE
All times are subject to change and are listed in central time (CT):
 
Thursday
9:10 p.m. – women's shot put (Nia Britt)
 
Friday
2:30 p.m. – women's heptathlon: 100-meter hurdles (Jenny Kimbro, Tria Simmons)
3:30 p.m. – women's heptathlon: high jump (Kimbro, Simmons)
3:30 p.m. – men's high jump (Jay Hunt)
5:50 p.m. – women's heptathlon: shot put (Kimbro, Simmons)
7:54 p.m. – men's 3,000-meter steeplechase (Nathan Mylenek)
9:13 p.m. – women's heptathlon: 200 meters (Kimbro, Simmons)
9:51 p.m. – men's 1,600-meter relay
 
Saturday
1:30 p.m. – women's heptathlon: long jump (Kimbro, Simmons)
2:45 p.m. – women's heptathlon: javelin (Kimbro, Simmons)
5:05 p.m. – women's discus (Laulauga Tausaga)
7:13 p.m. – women's heptathlon: 800 meters (Kimbro, Simmons)