IOWA CITY, Iowa — The National Iowa Varsity Club and the University of Iowa Athletics Department announced Tuesday that Jeremy Allen, Deb Brickey, Eric Juergens, Marc Long, Diane Pohl, Leroy Smith, and Tangela Smith have been named to the Iowa Athletics Hall of Fame class of 2019.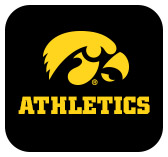 The 31st Hall of Fame class will be inducted into the Iowa Athletics Hall of Fame on Friday, Aug. 30, 2019 — the evening prior to the Iowa football team's season opener against Miami, Ohio (6:30 p.m., FS1)
 
All Hawkeye athletes who have earned at least one varsity letter award at Iowa are eligible for the Iowa Athletics Hall of Fame. Athletes must have completed their eligibility 10 years, and coaches/administrators five years prior to their induction.
 
The UI Athletics Hall of Fame induction ceremony is Aug. 30 at 6:30 p.m. (CT) inside the Grand Coral Ballroom at the Coralville Marriott Hotel and Convention Center. A hors d'oeuvres and cocktail reception precedes the induction ceremony at 5:30 p.m. 
 
For more information please call the Iowa Varsity Club office at (319) 335-9438.
 
Jeremy Allen, Track & Field (1998-2001)
Jeremy Allen earned five All-America honors and won four Big Ten titles as a thrower from 1998-2001. He won back-to-back shot put conference titles in 2000 and 2001, and won the discus titles in 1998 and 2001. He earned All-America honors in discus, shot put, and weight throw, and was named Big Ten Freshman of the Year for both the indoor and outdoor season in 1998. He was also a four-year letterman for the Iowa football team from 1998-2001.
 
Deb Brickey, Field Hockey (1982-85)
Deb Brickey was an All-American field hockey player from 1984-85 and holds the school record with 59 assists. She was named first-team All-Big Ten three straight years from 1983-85, and was named to the Big Ten All-Decade Team in the 1980's. She competed at the United States Olympic Sports Festival for five years from 1985-90, and was a member of the U.S. National Team in 1989 and 1990.
 
Eric Juergens, Wrestling (1998-2001)
Eric Juergens won back-to-back NCAA titles for the Iowa wrestling team in 2000 and 2001. He was a four-time All-American, earning honors at 118 pounds in 1998 and 133 pounds from 1999-2001. Juergens won the 133-pound Big Ten title in 2000 and 2001, and was named Big Ten Wrestler of the Year in 2001.
 
Marc Long, Swimming (1987-89)
Marc Long earned six All-America honors swimming for the Hawkeyes in 1988-89. He earned back-to-back honors in the 100-meter butterfly, and was a member of four All-America relays – 400-meter freestyle (1988), 200-meter freestyle (1989), 200-meter medley (1989), and 400-meter medley (1989). Long won two Big Ten titles in the 100-meter butterfly (1988-89) and was a member of the championship 400-meter freestyle relay in 1988. He swam on the Big Ten and NCAA record-setting 200-meter freestyle relay in 1989. He has served as Iowa's head swimming and diving coach since 2004.
 
Diane Pohl, Softball (1989-92)
Diane Pohl was an All-American catcher for the Iowa softball team in 1990 and 1991. She was named NCAA All-Region and first-team All-Big Ten three straight years from 1990-92. Pohl is a member of the 1990's Big Ten All-Decade team, and was named University of Iowa Athlete of the Year in 1990 and 1991.
 
Leroy Smith, Football (1989-91)
Leroy Smith earned consensus first-team All-America honors as a member of the Iowa football team in 1991. That same year, he was named Big Ten Defensive Player of the Year, first-team All-Big Ten, and Big Ten Defensive Lineman of the Year. Smith recorded 18 sacks in 1991, setting a school and Big Ten record. He had a school record five sacks in Iowa's 16-9 win at Ohio State, and was named to the Gannett News All-Time Iowa Football Team.
 
Tangela Smith, Basketball (1994-98)
Tangela Smith was basketball Big Ten Player of the Year in 1998. She is a three-time All-Big Ten honoree, earning first-team honors in 1996 and 1998, and honorable mention in 1997. She was a WBCA District/Region All-American as a senior in 1998, and ranks in the program's all-time top 10 in rebounding (7th, 859) and scoring (10th, 1,598).