Hawkeye Fan Shop — A Black & Gold Store | 24 Hawkeyes to Watch 2019-20 | Hawk Talk Monthly – June
By DARREN MILLER
hawkeyesports.com
IOWA CITY, Iowa — VB knows vb. In other words, Vicki Brown knows volleyball.
 
Brown was named interim head coach at the University of Iowa in May after serving the past two seasons as associate head coach. The Hawkeyes are in good hands.
 
"I know this game," Brown said. "I have been coaching long enough, I have played, I know what it takes to win, and a big part of that is the motivating part. We have elite athletes coming in; it is going to be about putting that puzzle together and motivating them to keep coming in ready to bring grit, focus, and work ethic. I know I'm able to do that."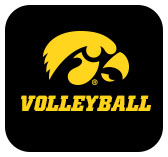 In the two seasons with Brown on staff, Iowa has compiled a record of 33-31. Nine letterwinners join eight freshmen on the 2019 roster.
 
"The great thing we have going into the season is everyone is going to be fighting for a position and that position is completely up for grabs," Brown said. "We will also be able to stay in that grit-and-grind mentality as we go through the preseason."
 
An all-conference middle blocker who played at Illinois from 2004-07, Brown went on to compete professionally in Austria, Puerto Rico, and Spain. The native of Toledo, Ohio, began her college coaching career as a volunteer at Toledo before spending two seasons as an assistant at Illinois State. Brown was on the staff at California-Davis for a season, then was named head coach of indoor and beach volleyball at the University of San Francisco.
 
"It was a benefit being head coach at San Francisco," Brown said. "You learn the important things for your first 30 days in office. Having that experience allowed me to have forethought and a Plan A and Plan B for going through that list of things to get done."
 
Aiding in Brown's smooth transition to the head coaching role is stability with the rest of Iowa's staff. Assistant coach Bre Payton begins her fifth season at Iowa and director of operations Emily Sparks is in her fourth season. The lone staff hire was Bobby Hughes in July. Hughes will be in charge of Iowa's defensive efforts.
 
Three years ago, when Brown was settled in at San Francisco, she received word that Iowa had an opening for an associate head coach. The fact a position vacancy at Iowa was creating buzz in California was all she needed to know about the direction the Hawkeyes were heading.
 
"That is the biggest difference from when I was a player until today," Brown said. "People know Iowa is a program that is on the move and is continuously finding ways to prove it is progressing every year. I wanted to be part of that and I still want to be part of that."
 
It took a while before Brown warmed to the idea of a coaching career. She laughs, then recalls how young and attractive her college coaches looked when she arrived on campus as a freshman.
 
"When I left, they had gray (hair) and bags (under their eyes) and I was like, there is no way," Brown said.
 
But there was a way. And her path has led her back to the Big Ten Conference.
 
"I have always geeked out over statistics and video," Brown said. "It was the day-to-day that I enjoyed as well, which is the majority of our time as coaches.
 
"As head coach, you're a decision-maker. My mom was a pastor the majority of my life, so I have always seen someone that looks like me making decisions. Making decisions has always been something I have been comfortable with."
 
The Hawkeyes will hold their annual Black & Gold Scrimmage on Aug. 24 beginning at noon. The regular season opens against Stony Brook on Aug. 30 as part of the James Madison Tournament. Iowa also plays Washington State and James Madison on Aug. 31.
Tickets are available online at hawkeyesports.com/tickets or over the phone at 800-IA-HAWKS.