24 Hawkeyes to Watch 2019-20 | Hawk Talk Monthly – June | Fight For Iowa
By SHANE STURTZ
hawkeyesports.com
 
IOWA CITY, Iowa — A successful freshman season for Manuela Lizarazu on the links turned out to be even better after taking advantage of the "Hawks to Professionals" program this summer.
 
"I am going home confident that I spent my summer in a productive way, where I learned about my field, my skills, and what I need to work on in order to reach my goals as a professional," said Lizarazu, a biomedical engineering major who returned home to Bogota, Colombia, after her hands-on experience.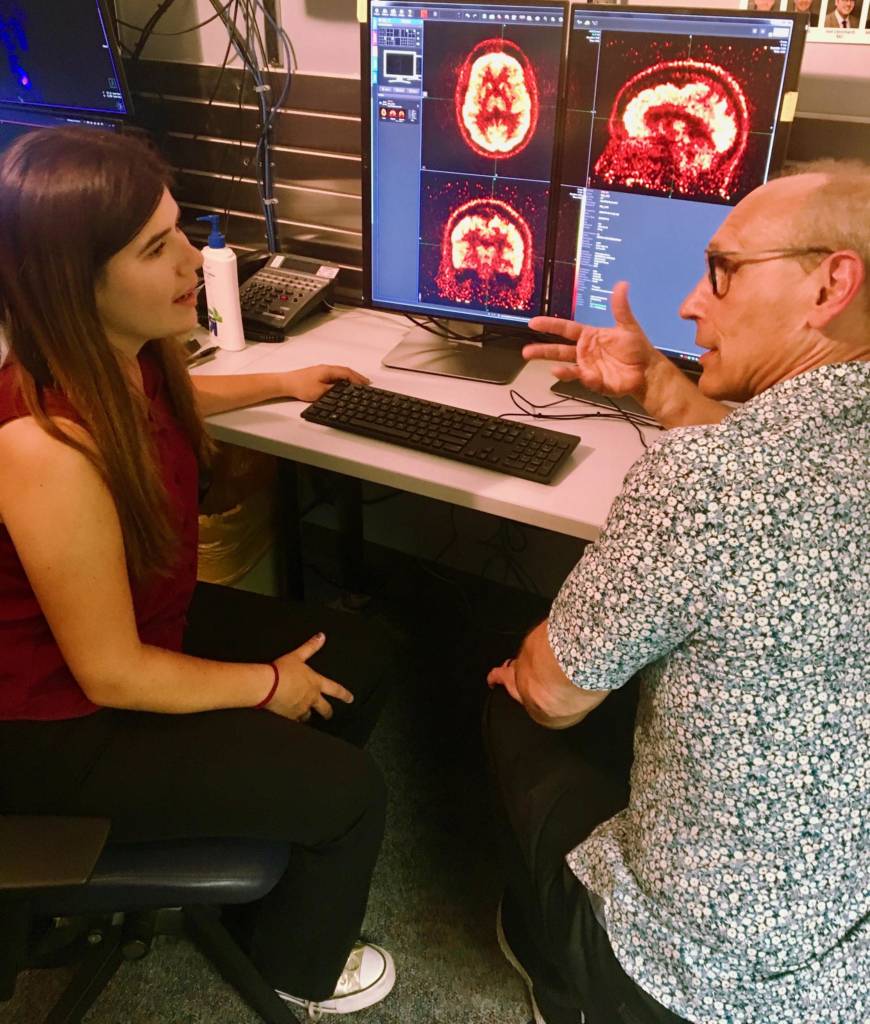 Her month and a half-long program was at the University of Iowa's Positron Emission Tomography (PET) Imaging Center where she job shadowed Dr. John Sunderland (left), the Director of the PET Imaging Center, and Dr. Gary Pierce. She learned about imaging technology and other research techniques that analyzes the human body in specific ways.
 
"This experience relates to my major and future in a direct way as it gave me a view of how the research world works and all the opportunities there are in my field," Lizarazu said.
 
"The experience Manuela had this summer shows what it means to be a student-athlete at Iowa," Iowa women's head golf coach Megan Menzel said. "We are striving each day to be successful on the golf course, but it is important our students are excited about their studies and what opportunities their degrees are going to offer them upon graduation."
 
Time in the classroom is important, but Lizarazu's time in a nationally recognized lab working with top notch doctors is a whole different opportunity.
 
She was able to review a new, game-changing diagnostic test for prostate cancer, observe a clinical trial about Alzheimer's disease, and understand radioactive molecules and overall technology associated with PET imaging.
 
The extended time in the research lab appealed to Lizarazu's current interests and future plans. It made for a hectic schedule for Lizarazu, which involved other classes while still finding time to work on her golf game. In her first year as a Hawkeye, she averaged a team-best 75.17 strokes per 18 holes over 30 rounds, while recording two top-10 finishes.
 
An offseason full of learning gave Lizarazu insight to a possible career path and she was exposed to cutting-edge technology that's attracting people to Iowa from all over the Midwest.  
 
"At Iowa, it is a big Hawkeye family and I appreciate all the time and encouragement John Sunderland put into his mentoring role with Manuela," Menzel said. "It is a win when the academic and athletic communities come together and support each other."
 
The hole-in-one opportunity gave Lizarazu the knowledge, confidence, and vision, knowing her dreams are possible as an Iowa student-athlete.
 
"I can say that this practice showed me that most of the time the impossible can become possible if you have the commitment, passion, and team to put in the effort to create the unimaginable," Lizarazu said.