24 Hawkeyes to Watch 2019-20 | Hawkeye Fan Shop — A Black & Gold Store | Photo Gallery | 2019 Hawkeye Invitational Men's and Women's Results
IOWA CITY, Iowa – The University of a Iowa men's and women's cross country teams opened the season by sweeping team titles Friday at the Hawkeye Invitational.   
 
The men won with 26 points, 25 points ahead of second-place Drake. The women scored 36 points, nine points ahead of Iowa State.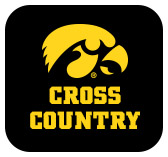 Senior Nathan Mylenek led the Hawkeye men, placing second overall in the 6,000 meters. He finished in 18:16 to jump from sixth to third on Iowa's all-time top 10 list. Daniel Murphy, Luke Sampson and Spencer Smith also jumped into the all-time top 10 list. Murphy's 18:19 time ranks fifth. Sampson ranks sixth in 18:22 and Smith ranks seventh in 18:25 
 
For the women, Senior Megan Schott led the group by placing fourth overall and recording a new personal best in 14:14. There were a total of nine women who reached a new career best in the 4,000-meters. Four Hawkeyes finished in the top 10, one of those spots was freshman Leah Kralovetz.
 
QUOTING HASENBANK
"Each year we are getting better and better. The women went out faster than we planned and that's an aggressive mistake. The men went out far more                                                  conservative and kept it together. We have a lot of very specific prep and a lot of training left ahead of us. Training trumps races. You have to train well                                                    and train consistent. That will be the big difference if we can take that training to the next level."
 
QUOTING MYLENEK
 "I was shouting and yelling the entire race. Luke Sampson decided to take the lead so when I passed him, I made sure he wasn't dropping. He did great. This race wasn't about winning. It was about executing a run so we're ready for an 8k. My goal is to eventually run an 18 flat, which is three minutes per K. The goal is hopefully to do that easily. I was just 16 seconds off."
 
QUOTING SCHOTT
 "We trimmed a little bit today. The course was dry and in great shape. I thought the team worked as a crew, which we haven't seen in a couple years. We had a good pack with good energy. The girls were ready for a test. We didn't taper anything. We had a really tough workout on Tuesday, one of the best workouts that we've ever had, so we were excited and tired, but we bounced back really well. It was a good start."
 
FIGHT FOR IOWA
Six new student-athletes ran in the invitational. Reece Smith and Nick Trattner competed for the first time with the men's team.  Maggie Gutwein, Leah Kralovetz, Elyse Prescott, and Gabby Skopec competed with the women's team.
Seniors Nathan Mylenek and Brandon Cooley competed in their fourth Hawkeye Invitational.
Nine Hawkeye women recorded career bests. Emma Gordan had the biggest improvement, cutting one minute and one second from her personal best.
Daniel Murphy, Luke Sampson, and Spencer Smith join the Top 10 All-Time Best list. Nathan Mylenek jumps from sixth to third on that list with a time of 18:16.
 
 
UP NEXT
The Hawkeyes return to competition at the Woody Greeno Invite on Sept. 21 in Lincoln, Neb.