24 Hawkeyes to Watch 2019-20 | Hawkeye Fan Shop — A Black & Gold Store | Woody Greeno Invite Results 2019
LINCOLN, Neb. – The University of Iowa men's and women's cross country teams both took home first-place finishes Saturday at the Woody Greeno Invitational. 
 
The men won with 47 points, 32 points ahead of second-place Kansas State. The women scored 53 points, 26 points ahead of second-place Iowa Central.
 
T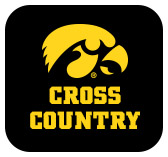 hree men placed in the top 10 in the 8,000 meters, including Nathan Mylenek (4, 24:44.8), Daniel Murphy (6, 24:59.2), and Luke Sampson (8, 25:02.8). Murphy shaved off a minute from his 2018 Woody Greeno time.
 
For the women, freshman Leah Kralovetz led the Hawkeyes, finishing in fourth place out of 189 5,000-meter competitors (17:31.4). Senior Megan Schott placed eighth overall in 17:41.7. Placing 17th, sophomore Kylie Latham recorded a personal best in 18:13.2.
QUOTING HASENBANK
"I thought both teams competed very well. I thought we could have executed a little better early in the men's race, overall, both teams had a very competitive spirit. Both teams placed 6 in the top 19. Men had a 45 second gap, women: a 43 second gap. Leah, Elyse, Jessica and Kylie all competed very well.  Megan and Anna competed extremely well also, but a little tired from training, which is where our focus is right now. Nate ran a vey smart race and is training well, maybe not as sharp as he would like, but he is fit. I though Dan Murphy looked great, really proud of where he is at. We need to keep him healthy and he will make a big difference. Luke, Brandon and Noah all ran smart races. The humidity was very, very high making race conditions difficult. Considering the weather, they executed pretty well."
FIGHT FOR IOWA
Seven Hawkeye men cut time from their 8,000-meter race at the 2018 Woody Greeno Invite.
5 men and 3 women compete in their third Woody Greeno Invite.
This is the first time both the men's and women's teams have both placed first at the Woody Greeno. The men placed first in 2017 out of five teams.
Freshman Leah Kralovetz and Senior Nathan Mylenek both finished in the top five out of 439 individuals that competed in the Woody Greeno Invite.
UP NEXT
The Hawkeyes return to competition at the Notre Dame Invitational on Oct. 4, in South Bend, Ind.