Hawkeye Fan Shop — A Black & Gold Store | 24 Hawkeyes to Watch 2019-20 | Joe Piane ND Final Results
SOUTH BEND, Ind. – The University of Iowa cross country teams competed in the blue division at the 64th Joe Piane Notre Dame Invite on Friday in South Bend, Indiana.
 
The women finished in 22nd place in the 5,000 meters and the men placed 12th in the 5 miles. The women scored a total of 542 points and the men with 282 points. The men beat two nationally ranked teams, Colorado State (13) and Wyoming (18).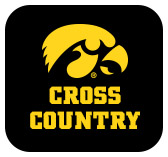 The Hawkeye's five top finishers in the men's race ran personal bests. Senior Nathan Mylenek, the top Hawkeye men's finisher in 29th place, cut off 32 seconds for a new best of 24:00. Daniel Murphy, Spencer Smith, Luke Sampson and Noah Healy rounded out the top five. 
Megan Schott led to Hawkeye women's team, finishing in 64th place. She trimmed off 14 seconds for a new personal best of 17:14 in the 5,000 meters. Ashley Bryja also set a new personal best in 18:06. She improved by 57 seconds from her 2018 Joe Piane time.
 
QUOTING HASENBANK
"There was a lot of underclassmen in the women's lineup opposed to the men's. There was a big learning curve at this meet. We struggled a little bit, but we needed this experience against bigger name teams. (Elyse) Prescott ran well. She continues to impress me. We had one person get tripped up during the race so that was tough to deal with. We did not have the confidence that we needed, and we have a lot to work on. It was their first big meet of the season and the younger girls were a little overwhelmed. Overall, they will get better from it."
"On the men's side, there is still more in the tank. We beat Colorado State, which is ranked 13th nationally and 18th Wyoming. We aren't even ranked so to knock off those teams is a huge accomplishment.  This was one of the best men's performances in a long time at this big of a meet. They competed well, and I am pleased with where they are at in the season. Nathan led the pack again, but Daniel Murphy and Spencer Smith performed great and made a big difference for our overall team score. Noah Healy ran an awesome race as well. We wanted to be in the top 10-12 going in and that's where we landed."
 
FIGHT FOR IOWA
• Six Hawkeye women ran a personal best in the 5,000 meters: senior Megan Schott, junior Elyse Prescott, sophomore Kylie Latham, sophomore Emma Gordon, junior Mary Arch and junior Ashley Bryja.
• Six Hawkeye men recorded personal bests in the 5 miles: senior Brandon Cooley, junior Noah Healy, senior Daniel Murphy, senior Nathan Mylenek, senior Luke Sampson, and sophomore Spencer Smith.
• Leah Kralovetz was the only freshman to place at the Notre Dame Invite. She placed 176th with a time of 18:29.
 
UP NEXT
The Hawkeyes return to action at Pre-Nationals in Terre Haute, Indiana, on Oct. 19. The women will run the 6,000 meter blue race and the men will follow in the 8,000 meters.