Hawk Talk Monthly — October | Hawkeye Fan Shop — A Black & Gold Store | 24 Hawkeyes to Watch 2019-20
IOWA City, Iowa – The University of Iowa Student-Athletes Academic Services (SAAS) recognizes a male and female athlete once a month who have not only excelled on the field, but in the classroom. The honor is voted on by their peers. This month SAAS recognizes senior Hannah Drkulec (women's soccer) and senior Nathan Mylenek (men's cross country).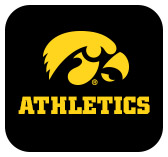 Drkulec was named a Big Ten Co-Offensive Player of the Week on Sept. 17, following her first career two-goal game and first career strike for a game winner in the road win at Notre Dame. It was Iowa's first Offensive Player of the Week honoree since 2017. She is also a two-time Big Ten Defensive Player of the Week (Aug. 27, Sept. 10). Drkulec is a part of the Hawkeye defense that has posted seven shutouts and has helped lead the team to 12 victories, which included nine straight to open the 2019 season, tying a school record. She has scored a career-high five goals and has two assists. Drkulec has played a part in the Hawkeyes achieving a No. 19 national ranking in the United States Coaches poll, the highest in program history.
Drkulec and the Hawkeyes take on Rutgers at home on Friday at 7 p.m. (CT).
Mylenek has been the men's cross country top finisher for the past three meets and has led the Hawkeyes to back-to-back first place finishes in the 2019 season. At the Hawkeye Invitational on Sept. 6 in Iowa City, Mylenek beat his personal best in the 6,000 meters (18:16) pushing him from sixth to third on the All-Time Top 10 list. On Sep. 11, Mylenek became the first men's cross country runner since 2010 to earn Big Ten Athlete of the Week.
Mylenek and the Hawkeyes return to action at the Under Armour Pre-National Invitational on Oct. 19 in Terre Haute, Indiana at 10 a.m. (CT).