Hawkeye Fan Shop — A Black & Gold Store | Hawk Talk Monthly — October | 24 Hawkeyes to Watch 2019-20 | I-Club Events Page
IOWA CITY, Iowa — The University of Iowa swimming and diving team earned five of the six Big Ten Conference weekly honors, it was announced Wednesday by the league office.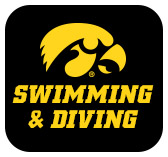 The Hawkeyes swept the men's accolades with sophomore Anze Fers Erzen being named the Swimmer of the Week, junior Anton Hoherz the Diver of the Week, and diver Michael Huebner the Freshman of the Week.
 
On the women's side, sophomore Sam Tamborski was tabbed as the Diver of the Week, while distance freestyler Millie Sansome was selected as the Freshman of the Week.
 
Fers Erzen earned his first career Big Ten accolade after winning three events in Iowa's season-opening victory over Michigan State.  The Slovenia native swept the backstroke events, winning the 100 back in 50.36 and 200 back in 1:47.57, while also touching first in the 200 IM (1:51.61).  Fers Erzen was also a member of the third-place 200-medley relay (1:33.04)
 
Hoherz earned his third career Big Ten honor — second Big Ten Diver of the Week nod — after posting a pair of top-two finishes against the Spartans, including winning the 3-meter springboard with an NCAA Zone Standard score of 341.60.  He also finished as runner-up to Huebner off the 1-meter with a 293.45.
 
Huebner, a freshman from Kearney, Nebraska, earned his first career weekly accolade after winning the 1-meter springboard in his Hawkeye debut with a score of 293.70.  He also placed fourth off the 3-meter with a 256.60.
 
Tamborski earned her second career Big Ten honor — first Diver of the Week accolade — after opening the season with two NCAA Zone Diving standards. The Colorado native won the 3-meter with a score of 316.45, while finishing third off the 1-meter with a 279.55. 
 
Sansome earned her first career honor after beginning her Iowa career with four victories in dual victories over Michigan State and Northern Iowa.  The England native swim to individual crowns in the 500 free (4:59.67) and 1,000 free (10:10.49), while also being a part of the winning 200-medley (1:42.94) and 400-free (3:28.81) relays.
 
Sansome's time in the 1,000 free was just outside the top 10 in program history.
 
The Hawkeye women return to action Oct. 11-12, traveling to Dallas to compete in the SMU Classic.  Both teams are back in action Oct. 26 in a Big Ten dual against Minnesota in Iowa City.