Hawkeye Fan Shop — A Black & Gold Store | 24 Hawkeyes to Watch 2019-20 | 2019 Pre Nationals Results
TERRE HAUTE, Ind. – The University of Iowa men's cross country team placed 10th out of 38 teams at the Pre-National Invitational on Saturday in Terre Haute, Indiana. Iowa finished the 8,000-meter race with 322 points. The women ran the 6,000 meters for the first time this season and placed 24th overall with a team total of 597.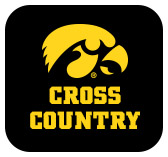 BYU won the men's title with 81 points. Washington won the women's title with 84 points.
 
Senior Nathan Mylenek led the men for the fourth time this season, and the eighth straight race dating back to 2018. He finished in 23:53, beating his 2018 Big Ten Championship time with a new career-best in the 8,000 meters. Mylenek placed 20th out of 257 individuals. Sophomore Spencer Smith jumped up to the men's second spot with a new personal best 24:34. Junior Noah Healy trimmed the most time off his personal best, finishing in 24:43.
 
Senior Megan Schott led the women, placing 70th out of 259 individuals. Freshman Leah Kralovetz took the second spot for the Hawkeyes, placing 92nd with a new career best of 21:24. Sophomore Kylie Latham cut over a minute off her previous career best and finished in 22:52.
  
QUOTING HASENBANK
 "The men performed very well and beat some great competition again today. Nate was excellent out front for us as he finished 20th against some of the best competition in the country. I like where he is at. He executed very well and showed a lot of composure. His supporting cast did a great job as well.  The gap between runners 2-5  (Spencer, Dan, Luke and Noah) is the best I can remember. Nine seconds separated the four over a 5 mile race distance. The gap between those four is crucial to our success.
 
"The women competed well, but we probably over ran the first 1000 meters of the race.  Just being a little more patient will make a big difference in the result.  The effort, however, was outstanding. Megan raced well up front and Leah had a very good day competing in her first 6k. I thought Ashley competed like a warrior out there on the course. We had a number of personal best but what we really try and focus on is the result."
FIGHT FOR IOWA
Four Hawkeye women ran personal bests in the 6,000 meters, junior Ashley Bryja, sophomore Emma Gordon, freshman Leah Kralovetz, and sophomore Kylie Latham. Latham cut off a minute and two seconds from her career best set at the 2018 Big Ten Championships.
Five Hawkeye men recorded career bests in the 8,000 meters, junior Noah Healy, senior Daniel Murphy, senior Nathan Mylenek, senior Luke Sampson, and sophomore Spencer Smith.
The men surpassed three nationally ranked teams on the leaderboard, Oklahoma State (14), and Indiana (15), and Arkansas (27).
 
UP NEXT
The men and women's teams travel to Columbus, Ohio, for the Big Ten Championships on Sunday, Nov. 3.