Hawkeye Fan Shop — A Black & Gold Store | 24 Hawkeyes to Watch 2019-20 | Hawk Talk Monthly — October | I-Club Events Page | Photo Gallery | RESULTS (PDF) | Notes (PDF)
IOWA CITY, Iowa — The 26th-ranked University of Iowa women's swimming and diving team fell to No. 3 Michigan, 173-127, on Friday at the Campus Recreation and Wellness Center. The Hawkeyes hold an overall record of 2-2.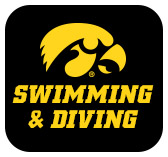 INDIVIDUAL STANDOUTS
Senior Hannah Burvill (1:49.53) and sophomore Lauren McDougall (1:49.93) topped the podium in the 200 free. Burvill posted another top tier finish in the 50 free (23.47), followed by teammates Maddie Ziegert (24.04) in fourth and Sarah Schemmel (24.10) in fifth. Burvill continued her run of top finishes in the 100 free, touching in 50.58 seconds and earning a second-place finish. McDougall followed suit in third with a time of 51.72.
Freshman Millie Sansome swam to a first-place finish in the 100 back in 55.57 seconds, tabbing her first win of the day. Fellow freshman Julia Koluch touched third in 56.39 seconds. Sansome repeated in the 200 back, taking first with a time of 2:00.03.
Junior Kelsey Drake grabbed Iowa a win in the 100 fly, swimming to a time of 1:59.45. In the 200 fly, Drake took second in 54.36. In the 200 IM, Drake fought to a first-place finish in the 200 IM in a time of 2:03.59.
BREASTSTROKE PROWESS
Iowa made a statement in the 100 breast, taking four of the top five spots in the event. Freshman Aleksandra Olesiak placed second (1:03.42), junior Sage Ohlensehlen took third (1:05.41), while freshman Zoe Mekus (1:05.87) and junior Lexi Horner (1:06.75) rounded out the top five.
Olesiak doubled down in the 200 breast, touching second in a time of 2:17.69.
 
OFF THE BOARDS
Junior Jayah Mathews dove to Iowa's first win on the boards on the 1-meter springboard with a score of 322.20. Sophomore Sam Tamborski stood out on the 3-meter springboard, putting up winning a score of 341.55. Mathews placed third with a score of 319.40.
RELAY'S SHOW DEPTH
The 200-medley relay team of Zoe Pawloski, Sage Ohlensehlen, Kelsey Drake, and Maddie Ziegert took second in a time of 1:44.10.
The 400-free relay, comprised of Millie Sansome, Allyssa Fluit, Lauren McDougall, and Hannah Burvill rounded out competition with a second place finish in a time of 3:26.57.
HEARING FROM SENIOR HANNAH BURVILL
"We've been on a positive note after doing so well against Michigan and Minnesota. We're moving in a positive direction and we're all looking forward to competing. Individually, I was happy to solidify what I did last week. As a team we're getting stronger and getting into a racing mode. I feel like we have a strong group now and I'm proud of how this team is doing. We're all looking forward to Rutgers next week."
HEARING FROM HEAD COACH MARC LONG
"They competed very well. We knew we have a few holes, but we're proud of how they competed both in the water and on the boards. We're finding out how people can do with people like Julia (Koluch) coming out today. She blew up in the 200 back even though she was in an exhibition heat. It's exciting and we always want to win when we can. They're a great group of women who love to race. We can't ask for much more."
On showing improvement…
"There are some things we've done with the lineup and several people stepped up today. Next week we have another Big Ten team coming in with Rutgers."
On a strong freshmen group…
"That depth is just developing constantly. Julia (Koluch) is doing well, Maddie (Ziegert) is battling, too. The group is fun to watch and be part of. We have to get it right as we get to February, but I like the hunger they have. We can't ask for much more. There are some who aren't popping up points in meets yet but show a lot of promise in practice, so I think our lineups later in the season will look a bit different."
On the men's team facing Michigan and Indiana tomorrow…
"We want to compete against the best and there will be some challenges with that. The men's team left this morning and they're hungry to race the best. We're stepping up. I think we can compete very well. We're excited to get on the road."
UP NEXT
The Hawkeyes host Rutgers on Nov. 8 at 2 p.m. (CT) at the Campus Recreation and Wellness Center for the team's final dual meet before the midseason Minnesota Invitational. Admission is free.