Hawkeye Fan Shop — A Black & Gold Store | 24 Hawkeyes to Watch 2019-20 | Big Ten Cross Country Championships Program | 2019 B1G MXC Championship results | 2019 B1G WXC Championship results
COLUMBUS, OHIO – University of Iowa senior Nathan Mylenek placed 10th in the men's 8,000 meters to earn second-team all-conference honors Sunday at the 2019 Big Ten Championship at the Ohio State University Golf Club. The Hawkeye men recorded a 10th place finish with 224 points. The Iowa women placed ninth with 273 points.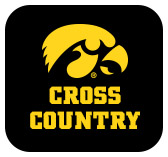 Michigan State clenched the women's Big Ten Championship title. The Spartans finished with 56 points. The men's title was won for the second straight year by Wisconsin. The Badgers finished with 56 points. 
For the Iowa women, freshman Leah Kralovetz was the top finisher, placing 42nd with a new career best (21:16) in the 6,000 meters. Junior Elyse Prescott also set a new personal best (21:28) with a 56th place finish.
Mylenek earned second-team All-Big Ten honors for the second straight season, finishing in 24:16. Mylenek jumped up one spot from his 2018 Big Ten Championship finish. Sophomore Konnor Sommer set a new personal best (25:29) in the 8,000 meters.
  
QUOTING COACH RANDY HASENBANK
"Really excited and happy for Nate. He has matured and continues to get better in championship meets. He was 97th as a freshman in this meet. 11th last year and now 10th. Nate is quietly becoming one of the most decorated distance runners in Iowa's history, very proud of him."
"On the men's side overall, huge disappointment.  To this point we had put together a nice season and had high expectations for this Big Ten meet. We need to move forward and get ready for the NCAA regional competition"
"Overall, I thought the women had a very solid meet, perhaps their best meet of the season. A ninth place finish behind 8 nationally ranked teams. We had a nice run by freshman Leah Kralovetz, and Megan, Elyse, and Anna were close together throughout. Kylie had a strong race in the five spot and showed a lot of improvement over last season's Big Ten race. The women competed very well as a team."
FIGHT FOR IOWA
Three Hawkeye women ran personal bests in the 6,000 meters, junior Mary Arch, junior Elyse Prescott, and freshman Leah Kralovetz.
Senior Nathan Mylenek has been the top Hawkeye finisher for the men for nine straight meets.
UP NEXT
The Hawkeyes travel to the NCAA Regional meet in Stillwater, Okla. On Nov. 15.