Hawkeye Fan Shop — A Black & Gold Store | Hawk Talk Monthly — November | 24 Hawkeyes to Watch 2019-20 | Complete Notes (PDF) | I-Club Events Page | RESULTS (PDF)
IOWA CITY, Iowa — The University of Iowa women's swimming and diving team defeated Rutgers, 199-100, Friday at the Campus Recreation and Wellness Center.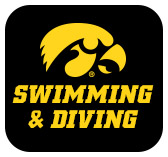 HOW IT HAPPENED
The Hawkeyes posted their second Big Ten victory, winning 13 of 16 events.
 
HAWKEYES TOP DIVING
The Hawkeyes swept the 1-meter springboard with top finishes from junior Jayah Mathews (324.85), sophomore Sam Tamborski (294.30), and senior Thelma Strandberg (272.25).
 
The trio came back again on the 3-meter springboard, dominating the top-3 and finishing in the same order with scores of 362.25, 329.60, 264.25.
 
HAWKEYES DOMINATE THE PODIUM
Freshman Millie Sansome posted Iowa's first win of the day in the 1,000 free, finishing in a time of 10:07.55. Sansome tabbed another win in the 200 back with a time of 1:59.78.
 
Senior Hannah Burvill grabbed a win in the 200 free, touching in a time of 1:49.31. Senior Allyssa Fluit and sophomore Lauren McDougall tied for second in times of 1:50.18. Burvill (50.62) and McDougall (51.54) came back in the 100 free with first and second place finishes.
 
Aleksandra Olesiak continued her hot streak from weeks past in the 100 breast, posting a win in 1:03.69. Olesiak touched in 2:18.85 in the 200 breast, topping the podium for a second time.
 
Junior Kelsey Drake swam to a first-place finish in the 200 fly (2:00.59), while freshman Grace Reeder touched third (2:08.70). Drake also took first in the 100 fly, swimming a time of 54.75. Junior Sarah Schemmel finished behind Drake in 56.90. Drake rounded out Iowa's individual wins with her third of the night in the 200 IM, posting a time of 2:05.17.
 
Fluit posted another win for the Hawkeyes in the 500 free, topping the field in 4:53.92. Freshman Macy Rink took second in a time of 5:01.43.
 
RELAY FINISHES
The 200-medley relay team of Burvill, Sage Ohlensehlen, Drake, and Maddie Ziegert finished in second in season best time of 1:43.41.
 
The 400-free relay team of McDougall, Sauer, Wooden, and Burvill topped the field in a time of 3:25.37.
 
HEARING FROM HEAD COACH MARC LONG
"Any Big Ten win is a good win. We're happy with how they competed today. We swept them on the boards, Kelsey Drake had an outstanding meet again, and across the board, we stepped up. We're developing a strong freshmen class and that showed today. With athletes like Julia (Koluch) even transitioning from meters to yards, we're now in a rhythm. We're in a good spot right now, especially now that we can dial into training for the Minnesota Invite. Rutgers has some top talent and we knew that they'd be ready to go as a Big Ten team."
 
HEARING FROM JUNIOR KELSEY DRAKE
"I felt like I put myself in a good place today. My 200 fly has been feeling good lately and I'm excited to swim that shaved and tapered at Minnesota. My 100 fly too has been great these past few weeks. The past few competitions have been learning experiences for all of us and we're excited to carry that into the Minnesota Invitational."
 
HEARING FROM FRESHMAN ALEKSANDRA OLESIAK
"It was fun to get the win today. It was nice to enjoy finally not being out-touched for the first time. I was able to pull out a win as a freshman for the first time. I've been training hard with the team and we're all sore, so being able to swim this well today is awesome to see. It was awesome to get the win today and we showed we're a force to be reckoned with."
 
UP NEXT
The Hawkeyes head to Minneapolis for the Minnesota Invitational on Dec. 4-7 at the Jean Freeman Aquatic Center.