Hawkeye Fan Shop — A Black & Gold Store | 24 Hawkeyes to Watch 2019-20 | Results
STILLWATER, Okla. — University of Iowa senior Nathan Mylenek placed fifth Friday at the 2019 NCAA Cross Country Regionals and has earned an automatic berth to the NCAA Championships on Nov. 29.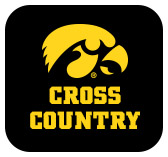 Mylenek finished the 10,000-meter race in 30:51. He was the Hawkeyes top finisher for the 10th meet in a row. The Hawkeye men placed seventh out of 27 teams with 184 points. Tulsa won the regional with 37 points.
 
The Hawkeye women were led by freshman Leah Kralovetz, who earned all-region honors with a 16th place finish. Kravlovetz finished the 6,000-meter race in a new personal-best, 21:08. The women placed 10th out of 33 teams, jumping two spots from last year's meet. They finished with 283 points. Illinois won the women's meet with a score of 108.
Mylenek is returning to the NCAA Championships for the second year in a row. The all-region honoree placed 141st in 2018.
 
QUOTING COACH RANDY HASENBANK
"Great individual performances from Nate and Leah today. Very, very solid team performances by both squads."
 
"Leah was 16th and all-region today. The top freshman finisher as well. Great to see her finish the season on a high note.  She battled through some adversity during the mid-season, so I am very proud of her."
 
"Nate is just a tremendous competitor. Not many athletes get to compete in the national championship for the final race of their career.  This is the second year in a row with a top 5 finish to secure a spot in the NCAA final."
 
I am also very proud of, and thankful for, our seniors.  Five of our men and two of our women exhausted their NCAA XC eligibility this fall. All of them will have the track season to follow, with the exception of Megan Schott. Megan arrived last fall as a grad student and gave the program a tremendous boost. She is a great leader for us and has set the standard at practice every day."
 
FIGHT FOR IOWA
Freshman Leah Kralovetz earns All-Region honors at NCAA Regionals. She is the first female freshman to make the All-Region team since Kayla Beattie in 2011.
Five men recorded personal bests in the 10,000 meters, senior Brandon Cooley, junior Noah Healy, senior Daniel Murphy, senior Luke Sampson, and sophomore Spencer Smith.
Senior Nathan Mylenek finishes the season as the Hawkeye's top runner (10 meets in a row). The last time this was accomplished was in 1993 by Kevin Herd.
Mylenek earns All-Region honors for the second straight year.
 
UP NEXT
Senior Nathan Mylenek will head to his second NCAA Championships in Terre Haute, Ind. on Saturday, Nov. 23. The men will run the 10,000 meters at 11:15 a.m. (CT)