Hawk Talk Monthly — December | Hawkeye Fan Shop — A Black & Gold Store | 24 Hawkeyes to Watch 2019-20 | I-Club Events Page | Notes (PDF) | RESULTS (PDF)
MINNEAPOLIS — The University of Iowa swimming and diving team continued a run of personal and career bests on day three of the Minnesota Invitational. The Hawkeye men and women both sit in sixth place overall, respectively.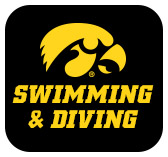 MAKING HISTORY
Freshman Millie Sansome posted a new career-best in the 400 IM finals, touching in a time of 4:17.68. This time solidifies her position at third all-time in program history.
 
Freshman Will Myhre swam a wowing 53.32 in the 100 breast, good for third all-time in Iowa history. Junior Daniel Swanepoel turned on the jets and finished just .03 behind Myhre with a 53.35.
 
Freshman Aleksandra Olesiak broke her own career best from prelims and moved to sixth all-time in Iowa history in the 100 breast, touching in a time of 1:02.39.
 
The men's 200-freestyle relay of Aleksey Tarasenko, Joe Myhre, Steve Fiolic, and Will Scott posted a 1:18.31, good for fourth overall at the invitational and sixth in program history.
 
PERSONAL BEST PERFORMANCES DOMINATE HEATS
Sophomore Anze Fers Erzen posted a 3:48.00 in the men's 400 IM, just behind his prelim career best of 3:47.51.
 
Junior Kelsey Drake one-upped her time from prelims in the 100 fly, posting a 53.28 and earned seventh overall. Junior Sarah Schemmel followed behind with season best of 54.48.
 
Will Myhre posted a team-leading time of 48.65 in the 100 fly, followed by fellow freshman Ryan Purdy at 49.01.
 
Hannah Burvill took third overall in the 200 free with a time of 1:45.40. Fellow senior Allyssa Fluit posted a season best of 1:47.14. Burvill posted a season best in prelims of 1:44.92.
 
Tarasenko tallied a 1:35.49 in the 200 free and earned seventh. His finals time was four 10ths off his prelim mark and career best of 1:35.09. Sophomore Andrew Fierke touched in a career best 1:37.10.
 
Burvill put up another impressive performance in the 100 back, touching in 53.85 seconds. Freshman Zoe Pawloski (56.53) and Samantha Sauer (56.83) both bested their preliminary scores in their respective heats.
 
The 200 free relay team of Burvill, Schemmel, Maddie Ziegert and Fluit swam a season-best time of 1:32.46.
 
DIVING POWERS RANKINGS
Jayah Mathews (343.40) and Sam Tamborski (328.90) once again performed well on the boards, posting second and third-place finishes on the 3-meter springboard.
 
TEAM RANKINGS
Iowa sits at sixth in both the men's and women's categories. The women have scored 189 points, just one point ahead of the men's 188. Iowa currently holds a lead over Nebraska on the women's side and Harvard on the men's and women's deck.
 
UP NEXT
The Hawkeyes return for another day of action tomorrow at 10 a.m. (CT) and 6 p.m. (CT) for the Minnesota Invitational. Follow live results by clicking the link on the hawkeyesports.com schedule page or by following on MeetMobile.