Hawk Talk Monthly — December | Hawkeye Fan Shop — A Black & Gold Store | 24 Hawkeyes to Watch 2019-20 | Fight For Iowa
IOWA CITY, Iowa — Chalmers "Bump" Elliott, who guided men's athletics at the University of Iowa to unprecedented growth and success during his 21 years as director of athletics, passed away Saturday, Dec. 7, at 94 years of age. Elliott took over as Iowa's director of athletics on July 1, 1970, and held the position until Aug. 1, 1991.
 
Elliott inherited a program in turmoil. Forest Evashevski had just resigned as director of athletics and Ray Nagel had been fired as football coach, ending a bitter feud between the two. Elliott arrived and built a winning program that earned national respect. He administered with a coach-friendly style, and preferred to stay out of the limelight.
 
During Elliott's watch, Iowa's men's teams won 29 Big Ten Conference titles in six sports (wrestling, football, basketball, swimming, gymnastics, baseball). That included 11 NCAA wrestling championships, three Rose Bowl appearances, a Final Four in basketball, and a College World Series in baseball. Both football and basketball had teams ranked No. 1 nationally. The Hawkeyes went to 10 bowl games and 11 NCAA Men's Basketball Tournaments during the Elliott era.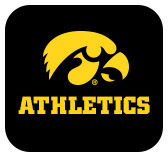 He was also an advocate of strong academic programs for student-athletes long before that became a national topic. The only NCAA penalty against the athletic program under Elliott's watch was an inadvertent recruiting violation in men's swimming in 1986.
 
Carver-Hawkeye Arena, an indoor football facility, and an all-weather championship track and field facility were built. Kinnick Stadium was expanded. The street east of Carver-Hawkeye Arena is now named Elliott Drive.
 
Among Elliott's hires were Hayden Fry, the school's winningest football coach at the time of his retirement, and Tom Davis, the school's winningest basketball coach. There was also Dan Gable, who coached Iowa's wrestling dynasty, and Lute Olson, whose rebuild of the basketball program reached the Final Four.
 
"Bump Elliott has given the Iowa Athletics Department the leadership necessary to achieve tremendous success," Fry said when Elliott announced his retirement.
 
Men's and women's athletic departments were administered separately when Elliott was at Iowa. But after Title IX legislation in 1972 sparked the emergence of women's athletics, Elliott worked with women's director of athletics Christine Grant. When Elliott retired, Grant said he deserved as much credit as anyone for building the women's athletic program.
 
Elected into the National College Football Hall of Fame in 1989, Elliott was the dean of Big Ten directors of athletics when he retired. His 21 years at Iowa is the longest run of any director of athletics in school history. He was inducted into the National Association of Collegiate Directors of Athletics Hall of Fame in 1997.
 
A native of Bloomington, Illinois, Elliott had a sterling athletic career at Michigan, playing three sports (football, basketball, baseball) from 1946-48. He also played parts of two seasons (1943-44) as a Marine trainee at Purdue.
 
Elliott gained fame as a star halfback at Michigan. He was an All-American and was named the Big Ten's Most Valuable Player in 1947. Elliott led the Big Ten in scoring (54 points) and helped the Wolverines to a Rose Bowl victory over Southern California. He averaged more than five yards a carry and was also Michigan's top receiver. Michigan's Fritz Crisler said Elliott was the greatest halfback he ever saw or coached.
 
After starting his 21-year football coaching career as an assistant at Michigan in 1948, Elliott left for Oregon State a year later. He came to Iowa for the first time as an assistant to Evashevski in 1952. His five-year stay included the Hawkeyes' 1956 Big Ten title and Rose Bowl triumph over Oregon State. He left to coach at Michigan, and was named the head coach at his alma mater two years later. His 51-42-2 record over 10 seasons included a victory in the 1964 Rose Bowl.
 
Elliott resigned as coach to become an administrator. He served as associate director of athletics for 18 months before Iowa hired him to run its program.
 
Elliott loved the Rose Bowl, and is the only man to attend the game in five capacities — player, assistant coach, coach, associate director of athletics, and director of athletics. He was inducted into the Rose Bowl Hall of Fame as a charter member in 1989.
 
Elliott is survived by his son, Bill, and daughter, Betsy. His wife, Barbara, passed away in 2016, and son, Bob, passed away in 2017.
 
University of Iowa Henry B. and Patricia B. Tippie Director of Athletics Chair Gary Barta on Bump Elliott:
 
"We are saddened to hear the news of Bump's passing. Hawkeye athletics lost a true friend and respected leader. Our thoughts and prayers are with his family.
 
Bump's footprint will forever shine on Iowa athletics. His leadership for more than two decades continues to be evident in any success enjoyed by our teams, coaches, and programs. Bump was far ahead of his time as a student-athlete, football coach, as the leader of Iowa athletics, and as a mentor and friend to all who knew him.
 
Everyone in college athletics who had the good fortune to work with and know Bump Elliott, understands the profound impact he had on the athletics programs at Purdue, Michigan, Iowa, and throughout the Big Ten for almost 50 years. He epitomized class — he was a revered leader, colleague, and friend to many throughout his career. He was a dedicated family man and he will be missed."
 
University of Iowa head football coach Kirk Ferentz on Bump Elliott:
 
"On behalf of myself, Mary, and the entire Hawkeye football program, I want to extend heartfelt condolences to the family of Bump Elliott. An exceptional athlete, selfless leader, and Iowa legend, he will be greatly missed. I first got to know Bump when I was an assistant coach under Hayden Fry in the 1980's and I enjoyed every opportunity to spend time with him for more than three decades.
 
I have the highest regard and respect for him and the entire Elliott family. His leadership and vision helped shape the culture and competitiveness of athletics at the University of Iowa. It's safe to say that Hawkeye athletics would not be where they are today without Bump Elliott."
 
Former University of Iowa head wrestling coach Dan Gable on Bump Elliott:
 
"Bump was a difference-maker in my life and the lives of many others. I felt lucky to be under a guy who knew very well what he was doing in terms of his business. At first, he didn't make any promises, but he said, 'you do well, and I will do well for you,' and he honored that. Even though it could have, it never got old for him to see Iowa wrestling win, and that is one of the reasons for our success, because the guy at the top of the department continued to be excited. As much as some people talk, he actually lived his talk."
 
 
Former University of Iowa head men's basketball coach Tom Davis on Bump Elliott:
 
"As a coach who worked for Bump, you had a sense that he was there with you all the way, in understanding the demands of coaching in the Big Ten Conference. He was a coach's director of athletics, and he was always in the room with you.
 
He was a pleasure to work with, and I know Hayden Fry, Dan Gable, Duane Banks, all the others, would say the same thing.
 
Bump understood what it took for success. He excelled as a student-athlete in many ways, and he was able to carry that over as an excellent administrator."