Hawk Talk Monthly — December | Hawkeye Fan Shop — A Black & Gold Store | 24 Hawkeyes to Watch 2019-20 | I-Club Events Page | Notes (PDF) | RESULTS (PDF)
MINNEAPOLIS — The University of Iowa swimming and diving team notched three school records on the final day at the Minnesota Invitational at the Jean K. Freeman Aquatic Center, earning several NCAA 'B' qualifying standards and numerous career bests.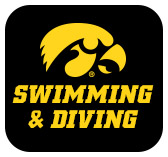 SCHOOL RECORDS
Junior Kelsey Drake took Iowa's 200 fly crown with a time of 1:58.18 in prelims, earning an NCAA 'B' cut in finals with a time of 1:58.50. Drake now holds both the 100 and 200 school records after the invitational.
 
Freshman Millie Sansome cruised to a school record in the 200 back in prelims, setting the new mark at 1:56.31.
 
Senior Hannah Burvill tabbed Iowa's third school record of the day in the 100 free, shattering her own record and touching in a time of 48.65. This time is good for an NCAA 'B' cut.
 
NCAA 'B' STANDARDS FALL
Sophomore Anze Fers Erzen moves to third all-time in Iowa history in the 200 back with a flashing 1:42.64. Ryan Purdy moves to ninth all-time with a time of 1:44.64. Both earned the qualifying standard.
 
Sophomore Aleksey Tarasenko tabbed eighth overall with a time of 43.23, nearly taking the school record in prelims with a 42.85. Senior Steve Fiolic followed suit with a 43.74.
 
Junior Daniel Swanepoel touched in a personal best (1:55.46) in the 200 breast, narrowing closer to assistant coach Roman Trussov's school record. Senior Weston Credit moved up the all-time rankings to sixth in Iowa history with a 1:58.47, topping his career best and missing the NCAA 'B' mark by just .04.
 
Drake swam a time of 1:58.95, earning an NCAA 'B' cut in the 200 fly, but did not eclipse her school record of 1:58.18 from prelims.
 
MAKING HISTORY
The 400-free relay team of Allyssa Fluit, Burvill, Sarah Schemmel, and Macy Rink post the second-fastest time in school history at 3:19.41. Burvill's split of 48.59 is the fastest ever by an Iowa sprinter.
 
The men's 400-free relay team of Tarasenko, Joe Myhre, Fiolic, and Will Scott grabbed the fifth-fastest time in program history with a 2:53.74.
 
Sansome broke into another category in Iowa's record books, swimming a time of 16:41.89 in the 1,650 free, good for sixth all-time. Holt nearly missed 10th in school history in the mile, posting a time of 15:27.23.
 
Freshman Aleksandra Olesiak drops significant time in the 200 breast finals, posting a 2:15.62.
 
FINAL SCORES
The Iowa women finished seventh ahead of Nebraska with 254 points, just behind Harvard with 282 points.
 
The Hawkeye men placed fifth with 250 points, ahead of Minnesota (235) and Harvard (171).
 
UP NEXT
The Hawkeyes return to the Jean K. Freeman Aquatic Center tomorrow for a long course showdown with the hopes of capturing Olympic Trials qualifying standards.