Hawkeye Fan Shop — A Black & Gold Store | Hawk Talk Monthly — January | 24 Hawkeyes to Watch 2019-20
By DARREN MILLER
hawkeyesports.com
IOWA CITY, Iowa — Jaylan McConico's introduction to track and field was fleeting. The University of Iowa senior hurdler/sprinter began competing in middle school in Bolingbrook, Illinois, then quit because he didn't think he was fast enough.
 
The Hawkeyes are thankful for a wager between McConico and his friend Ashley Barrera that motivated him to resume the sport as a sophomore at Bolingbrook High School.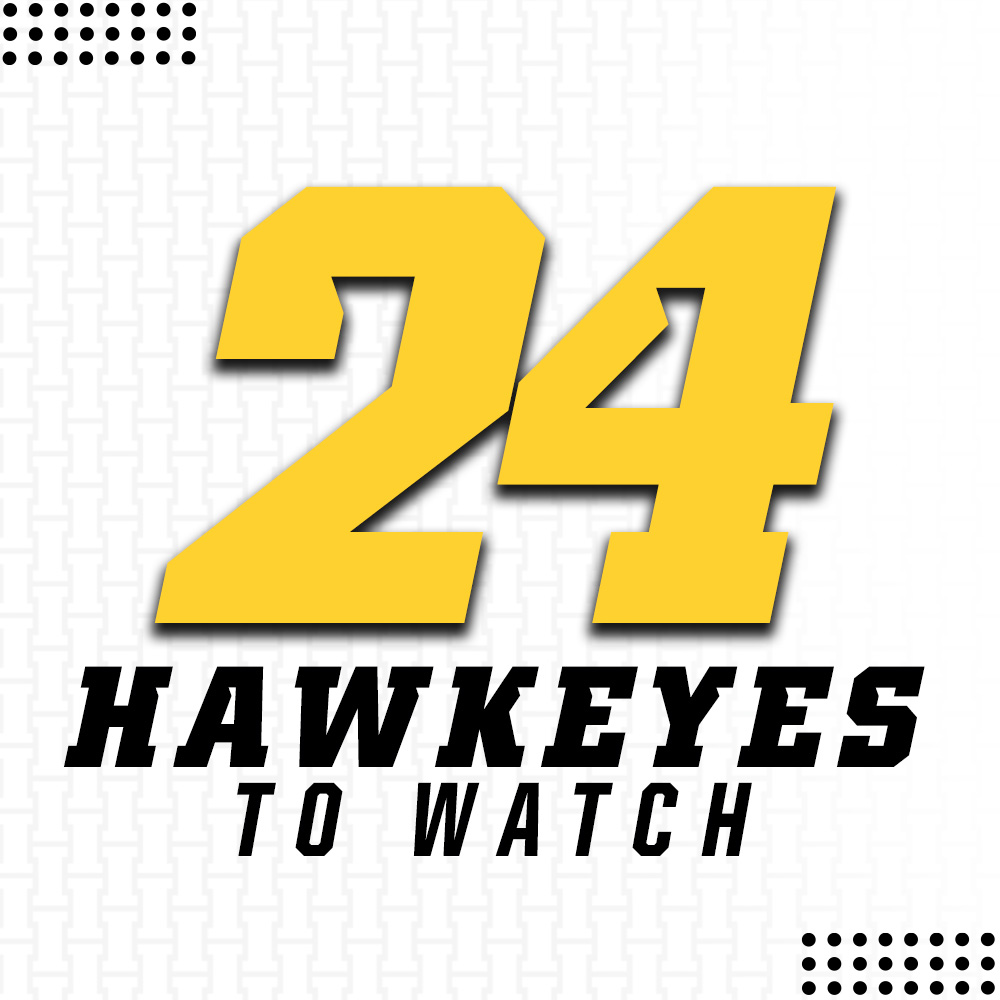 "She convinced me to go out," McConico said. "We made a deal. If she took her (Advanced Placement) class, I was going to run track. I credit her to this day, because I'm here now."
 
McConico's 7.66-second clocking in the 60-meter hurdles at the Jimmy Grant Invitational on Dec. 14 put him on top of the Big Ten and third in the country behind Florida State hurdlers Trey Cunningham (7.57) and Caleb Parker (7.64). In January, McConico won 60 hurdles titles at the Larry Wieczorek Invitational on Jan. 18 (7.72 prelims, 7.77 finals) and at the Rod McCravy Memorial in Lexington, Kentucky on Jan. 25 (7.79, 7.87).
 
"Jaylan is determined and he is a guy that wants to win and be the best in the country," Iowa director of track and field Joey Woody said. "He brings that attitude every day.
 
"He is tremendously fast and an ultra-competitor. He gets out on people right away and puts pressure on them early."
 
McConico is the latest in a line of Hawkeye hurdle stars. The 7.66 he ran earlier this season is second in school history to Aaron Mallett's 7.64 set in 2017. Before that, there were Iowa greats Jordan Mullen (7.70) and Ethan Holmes (7.82) in 2013 and Chris Douglas (7.75) in 2019.
 
"He is continuing the tradition of our hurdle program," Woody said. "He keeps carrying the baton from when it was passed down from Ethan and Jordan, to Aaron, to Chris. It will continue to grow."
 
The Iowa hurdle tradition was on display in the season-opener when six of eight finalists were Hawkeyes. Two meets later at the Larry Wieczorek Invitational, five of eight finalists were from Iowa. McConico won both races.
 
Being surrounded and pushed by a talented training group is a plus.
 
"Every meet feels like the Big Ten final," McConico said. "We have a team where (four of the top seven) guys in the Big Ten are on my squad. It's a great training atmosphere, the intensity is high every time we come in, and you have to be ready to roll every day. That translates well for me."
 
McConico's road to Iowa City took a two-year detour in Normal, Illinois. He was recruited to Illinois State by Brenton Emanuel, then excelled with the Redbirds. As a sophomore in 2018, McConico was the Missouri Valley Conference champion in the 60 hurdles (indoor) and 110 hurdles (outdoor). He was named MVC Most Outstanding Track Athlete during the indoor and outdoor championships.
 
At the NCAA Championships that season, McConico became a two-time second-team All-American by placing 11th indoors and 10th outdoors.
 
When Emanuel left for his alma mater Eastern Illinois, McConico began looking for a new home. He found it with Woody and the Hawkeyes.
 
In Iowa, McConico saw an opportunity to train with other great athletes; in McConico, Woody saw an accomplished hurdler with plenty of upside.
 
In his first season as a Hawkeye, McConico earned two more second-team All-America honors. He won the Big Ten indoor championship in the 60 hurdles (7.79) and competed at the NCAA Indoor National Championships (7.92). During the outdoor season, McConico overcame a strained abductor muscle to finish runner-up in the 110 hurdles (13.78) at the Big Ten Championships and 11th at the NCAA Championships (13.69).
 
Iowa won the Big Ten outdoor team title with 116 points.
 
"It was great to come to a team and contribute," McConico said. "I like the idea of knowing we got the trophy and I was able to contribute to that success."
 
McConico's final indoor season will include two or three more meets before the Big Ten Championships from Feb. 28-29 in Geneva, Ohio. The NCAA Indoor Championships will be March 13-14 in Albuquerque, New Mexico.
 
None of McConico's success would have happened without the friendly high school wager. So, whatever happened to Ashley Barrera? She is a student at the University of Illinois-Chicago, majoring in neuroscience.
 
"She's smart," McConico said with a smile. "But she didn't uphold her part of our deal (in high school).
 
"I kept mine."
 
And the Hawkeye track and field program is grateful.