24 Hawkeyes to Watch 2019-20 | Hawkeye Fan Shop — A Black & Gold Store – https://hawkeyefanshop.com/?utm_source=HawkeyeSports&utm_medium=HawkeyeSports&utm_campaign=HawkeyeSports
IOWA CITY, Iowa – Fight for Iowa Podcasts, featuring host Gary Dolphin, are now available over several platforms. The announcement was made Friday by UI Athletics and Hawkeye Sports Properties.
The initial podcast, featuring Dolphin with head football coach Kirk Ferentz, was made available April 6. Moving forward, the podcasts will be available each Friday morning. The April 10 double edition features Dolphin with Gary Barta, the UI's Henry B. and Patricia B. Tippie Director of Athletics Chair, along with head women's basketball coach Lisa Bluder.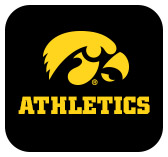 The weekly podcast will feature Hawkeye coaches, administrators, student-athletes and alumni and will be hosted by Dolphin, the radio voice of Iowa football and men's basketball since 1997. In addition to his play-by-play duties, Dolphin serves as the weekly host of football and men's basketball radio shows throughout each season. He has been named Iowa Sportscaster of the Year on four occasions.
The podcasts will be available via several platforms, including hawkeyesports.com (click HERE), and ART 19, the distribution channel for Learfield IMG College. Additional platforms include Apple podcasts, Anchor, Breaker, Google podcasts, Overcast, Pocket casts, Radio Public, Spotify, Tune-in Radio, and IHeart Radio.