24 Hawkeyes to Watch 2019-20 | Hawkeye Fan Shop — A Black & Gold Store | Hawk Talk Monthly — March
By DARREN MILLER
hawkeyesports.com
IOWA CITY, Iowa — Will Daniels is a jumper.
 
High, long, triple; he put an emphasis on field as a member of Geneseo (Illinois) High School track and field teams from 2013-16.
 
After placing second in the long jump, third in the high jump, and 10th in the triple jump at the Illinois High School Class 2A State Championships as a senior, Daniels leaped to the next level at Division III Central College in Pella, Iowa. There, he ventured onto the track, added a few more field events to his repertoire and became the best multi-event performer in the nation.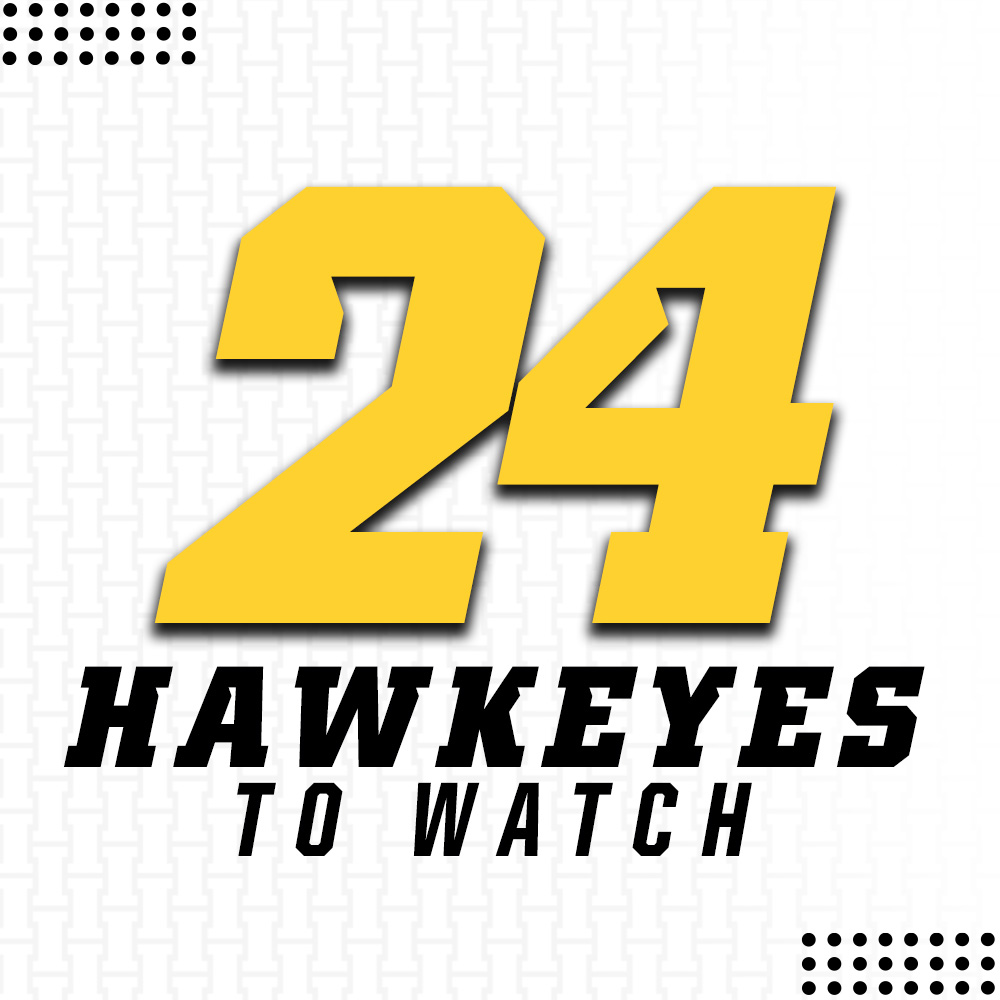 Three times he was national champion — twice in the indoor heptathlon (2018, 2019) and once in the decathlon (2019). Daniels also excelled in the classroom, graduating in three years with a 3.98 grade-point average and a degree in biology. He received the American Rivers Conference Duane Schroeder Male Scholar-Athlete of the Year for 2018-19.
 
"From an athletic standpoint, I felt I exceeded any expectations I had coming into Central," Daniels said. "That speaks highly of the coaches there who took me from where I was out of high school — which was pretty under-developed, especially as a multi-event athlete — and transformed who I was as an athlete."
 
Another year at Central wouldn't have done much for Daniels in the classroom, either. He could pursue a minor or more clinical experience, but in the end, he decided on graduate school.   
 
"Going to a new place and getting brand new experiences was what I wanted to do instead of diversifying at Central," Daniels said.
 
Daniels received plenty of encouragement at home to attend the University of Iowa. His father graduated from the University of Iowa School of Dentistry. Other University of Iowa alumni in the family included an aunt, uncle, cousins, and brother. Iowa also had a small, specialized master's program that interested him: clinical exercise physiology in the health and human physiology department.
 
An added bonus — the Hawkeye men's track and field team was also coming off a 2019 Big Ten outdoor championship, but it did not score points in the decathlon.
 
During his junior season at Central, Daniels reached out to Joey Woody, Iowa director of track and field. That was before Daniels won his second consecutive Division III NCAA heptathlon championship with 5,418 points. When athletes moved outdoors, he added a national decathlon championship by scoring 7,427 points.
 
"Will brought great athleticism that we are always looking for," Woody said. "He has a great demeanor; he's dialed in and focused. He is locked in with what he is trying to do and is a very down-to-earth-type of kid."
 
In his first heptathlon as a Hawkeye — the Frank Sevigne Husker Invitational on Feb. 7-8 in Lincoln, Nebraska — Daniels won the event with a school-record 5,689 points. Over the course of the seven events, Daniels won the 60-meter dash, long jump, and high jump.
 
"I was super-excited — a huge overall PR, broke the school record and that score ended up qualifying for nationals," Daniels said. "That was probably the best individual performance I have ever had."
 
Daniels returned to a familiar venue three weeks after his record-setting meet for the Big Ten Indoor Championships at SPIRE Institute in Geneva, Ohio. He competed on the outdoor facilities there for the 2017 and 2019 NCAA Division III National Championships.
 
Daniels opened by winning the 60-meter dash in 6.87 seconds. He was third in the shot put and pole vault and with 5,639 points, finished runner-up to Zach Lorbek of Wisconsin.
 
"Getting second was not a performance I was super-excited about, but it was still a solid overall performance for me," Daniels said.
 
Ironically, he couldn't find his rhythm in the high jump and long jump, two of his best events.
 
"I kind of dropped the ball and missed out on a lot of points there and had to claw back in the hurdles and pole vault on day two," Daniels said.
 
It would be two weeks before Daniels returned to action at the NCAA Indoor National Championships at the Albuquerque Convention Center in Albuquerque, New Mexico. Daniels worked out at the track March 11 and was expected to begin competing at noon (CT) the next day. Before he could settle into the starting blocks for the 60 dash, the NCAA canceled all competition through the academic year because of the coronavirus pandemic.
 
"We all understood there was something bigger going on," Daniels said. "Disappointment was the main emotion. We gear our training specifically for this meet, so we were hitting our peak shape for the national meet and it got called off."
 
There is still an opportunity for Daniels to write a happy ending. He has eligibility to compete during the 2021 outdoor season, and since he would be completing course work at Iowa anyway, he will remain with the Hawkeye track and field team.
 
"Sometimes it's hard when you have a one (year)-and-done athlete," Woody said. "Now he can contribute to the culture of our program for another year, which is always significant when you are trying to build a championship team."
 
According to Woody, being first-team All-America in the decathlon is a reasonable goal for Daniels. He will have plenty of competition in practice; at the Big Ten Indoor Championships, four Hawkeyes placed in the top nine and three were on the award's stand. Joining Daniels were sophomore Peyton Haack (fourth), freshman Austin West (fifth), and junior Daniel Gaynes (ninth).
 
"Everyone brings their own energy, experience and knowledge in different events every day in practice," Daniels said.
 
It's one Hawkeye student-athlete sharpening another.
 
"Will elevated them just like they elevate him," Woody said. "It is a good culture and now we have one of the best multi-event programs in the country."