Editor's Note: On Aug. 11, the Big Ten Conference announced the postponement of the 2020-21 fall sports season, including all regular-season contests and Big Ten Championships due to ongoing health and safety concerns related to the COVID-19 pandemic.
By DARREN MILLER
hawkeyesports.com
IOWA CITY, Iowa — Courtney Buzzerio created a buzz last November during a Big Ten Conference volleyball match against No. 6 Nebraska.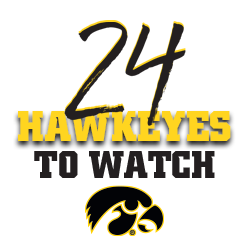 That evening in Lincoln, Nebraska, Buzzerio and the Hawkeyes gave the NCAA Regional finalist Huskers all they could handle in a five-set thriller. Buzzerio compiled the first triple-double of her career with 20 assists, 18 kills, and 10 digs. For good measure, she added two blocks and two service aces.
"That was an eye-opener for the team and me as well," said Buzzerio, a 6-foot-5 junior. "We can hang with teams that are national championship contenders. I was able to put balls away that a lot of teams don't; a lot of teams don't go five games with Nebraska. Being able to put things together and realize we can do that was big."
For Buzzerio, her breakout match at Nebraska was a highlight of a breakout sophomore season. She led the Hawkeyes with 32 service aces and was second with 305 kills and 263 assists. Buzzerio had 175 digs.
The Hawkeyes finished the 2019 season 10-21 overall, 4-16 in the Big Ten. Buzzerio is one of 12 returning letterwinners.
A team goal heading into next season is a berth in the NCAA Tournament and with Iowa's returning experience, Buzzerio knows a postseason run is attainable. As for individual expectations, she isn't about to plateau after last fall.
"I want to continue to grow as a player and a leader," she said. "This year I want to expand that and be more of a leader on the court — vocally as well as performance."
Athletes run in the Buzzerio family. Courtney's father, Tony, played water polo at California State-Los Angeles and her mother, Dana, played volleyball at University of California-Irvine.
Likewise, Buzzerios run in the Hawkeye family. There has been a Buzzerio on Iowa's volleyball roster since 2016 when Courtney's older sister, Meghan, joined the program as a transfer from Arizona. Courtney originally signed a National Letter of Intent with Indiana in 2017 but was granted a release when the Hoosiers did not retain head coach Sherry Dubar-Kruzan.
"After that, it was Iowa all the way," Buzzerio said. "I knew the coaching staff because Meghan was here. I got to know them first as Meghan's little sister, so knowing them as a future player was an easy transition. It was nice having that inside knowledge."
A native of Chino Hills, California, Buzzerio was first team All-Trinity League as a junior and senior at Orange Lutheran High School. As a senior, she was named California Interscholastic Federation Division II Southern Section Player of the Year.
"I want to continue to grow as a player and a leader. This year I want to expand that and be more of a leader on the court — vocally as well as performance."

Courtney Buzzerio
As for a college, she searched for a small-town feel and a big college atmosphere.
"That is Iowa City to a T," Buzzerio said.
She also gravitated to a Hawkeye coaching staff that is invested in its student-athletes outside of volleyball.
"(Head coach) Vicki (Brown) is big on helping us after volleyball, helping us get to where we want to be as people," Buzzerio said.
Brown begins her second season as Iowa's head coach after serving as associate head coach since 2017. She recruited Buzzerio primarily as a setter but envisioned her as a hitter as well.
"She came in with potential to play dual positions," Brown said. "In the beginning we were trying to see where she would be most successful. Our team suffered a few injuries and Courtney was asked to do more. Can you also hit and score back row? As we went further into the season it was a question of can you set back row and score for us front row?
"She put effort into adjusting for our team and she has grown into a force."
As a freshman, Buzzerio played 24 sets and compiled eight digs, seven blocks and one kill. She played 115 sets as a sophomore, accumulating double-digit kills in 15 of 31 matches. Her career-highs in a match are 51 assists, 19 kills, and 13 digs.
Now a junior, Buzzerio has established herself in the Big Ten Conference and the level of volleyball played in the Big Ten takes a back seat to no conference. Last season, four Big Ten teams advanced to the quarterfinals of the NCAA Tournament, two were in the semifinals and one in the finals.
A health and human physiology major, when her volleyball days are over, Buzzerio wants to enter the medical field and do hands-on medicine, perhaps as a nurse.