By DARREN MILLER
hawkeyesports.com
IOWA CITY, Iowa — Ann Low cries when she watches "The Wave" after the first quarter of University of Iowa football games in Kinnick Stadium.
It is personal and special for the 66-year-old from Northwood, Iowa.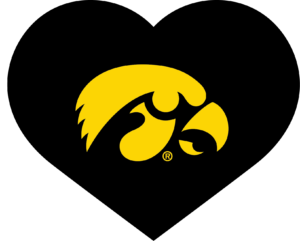 "Not only do I love the Hawkeyes, they saved my granddaughter's life," Low said.
She credits Dr. Stuart Weinstein, an orthopedic surgeon at the University of Iowa Hospitals and Clinics. Her granddaughter, Aurora, was born May 12, 2017, and was immediately transferred to the Neonatal Intensive Care Unit at MercyOne Des Moines Medical Center.
"She was there 10 days and we didn't think she would survive," Low said.
Aurora endured but required tube-feeding for a year. Then, she was diagnosed with scoliosis and was referred to Weinstein at the UIHC.
"He said if we didn't do surgery, she was going to die," Low said. "Her organs were so crunched."
If Hawkeye fans thought the Drew Tate to Warren Holloway game-winning pass play in the 2005 Capital One Bowl was a miracle, listen to this: Aurora completed successful surgery May 2, 2019, and now walks on her own.
"It is a miracle, an absolute miracle," Low said. "Actually, it's a miracle times two; her life was saved twice."
If anyone deserves a break in life, it's Low. Years ago, she would make the 3 1/2 -hour drive to Kinnick Stadium with her husband, Arne, to watch her beloved Hawkeyes.
"It is a miracle, an absolute miracle. Actually, it's a miracle times two; her life was saved twice."

Ann Low
"It was some of the best times of our lives," Low said.
Arne passed away nearly seven years ago from an auto-immune disease.
Then, the stress of Aurora's medical situation took its toll on her biological mother, who is Ann's daughter. Because of that, Ann assumed the responsibility of raising Aurora.
Maybe not-so-coincidentally, The Wave began in 2017, the year Aurora was born. In 2019, during her stay in the University of Iowa Stead Family Children's Hospital, Aurora's room was two floors below the 12th Floor Press Box, where children gather to wave on football game days.
"I cry every time I watch it," Low said.
Low still follows Iowa football and men's basketball games, often at the Diamond Jo Casino in Northwood, where she can yell and scream with other Hawkeye fans.
"I am not a fair-weather fan. I follow them no matter what; win or lose I'm there," Low said. "I was jumping for joy when I found out they were going to be playing football. I can't wait."
It seems a slam dunk that Aurora will grow into becoming a Hawkeye fan as well. But so far, her three years of life have been filled with physical, speech, and occupational therapists.
And her dancing partner, Dr. Weinstein.
"I had her down (at the UIHC) in June," Low said. "She has to have rods in her spine lengthened every so often. Dr. Weinstein asked how she was doing, and I said, watch this."
Low rose from her seat and walked with Aurora around the examination room. Dr. Weinstein took it one step further.
"He danced with her," Low said.
For years, Iowa football coach Hayden Fry and his players did a locker room Hokey Pokey after momentous victories.
The dance shared by Aurora and Dr. Weinstein had much more significance.