By DARREN MILLER
hawkeyesports.com
IOWA CITY, Iowa — Sixty-one football seasons separated Betty Point's most significant highlights as a University of Iowa fan. Both instances included a visit from the Ohio State Buckeyes.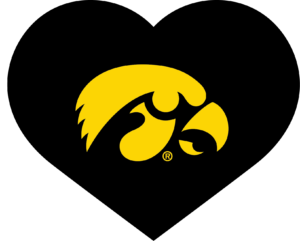 Point was a freshman at Pocahontas (Iowa) High School and sat in the south end zone of Iowa Stadium on Nov. 17, 1956, when the Hawkeyes defeated No. 6 Ohio State 6-0 to advance to their first Rose Bowl. She was also in attendance Nov. 4, 2017, when Iowa dismantled the third-ranked Buckeyes, 55-24, in Kinnick Stadium.
"One of my favorite games, and my family probably agrees, was the Ohio State game (in 2017)," Point said. "We didn't expect that."
Point's father was a huge Hawkeye fan and when he wasn't listening to away games on a radio, he was rising early on Saturday mornings to join a neighbor and attending as many Iowa home football games as possible. In 1956, he took the entire family to the Ohio State-Iowa game, where Jim Gibbons caught a 17-yard touchdown pass from Kenny Ploen for the only score. It ended a 17-game Big Ten winning streak by Ohio State.
Two years later, Point attended the 1959 Rose Bowl, where Iowa defeated California, 38-12.
"We had an aunt who lived in Newport Beach, California, so we decided to go there for Christmas and attend the Rose Bowl," Point said. "It was fun, Iowa won of course. It was a big deal for us."
Betty and her husband, Dick, reside in Cherokee and have been Iowa football season ticket holders for nearly three decades. Their three daughters all graduated from the University of Iowa and they are now spreading Hawkeye cheer across the nation: Nancie lives in St. Louis, Mary Lynn in San Antonio and Stephanie in Denver.
In high school, Betty was a cheerleader and enjoyed watching sports. Dick took his athleticism to Buena Vista in Storm Lake, Iowa, and played basketball. He coached basketball for many years at Cherokee High School, taking the Braves to a Class 2A runner-up finish in 1975 and qualifying for state in 1984.
The Point family has its own routine on home football Saturdays. One of the daughters owns a condominium on Dubuque Street and many family and friends gather there before and after games.
Betty is 78-years-old and still enjoys driving to Iowa City to enjoy a few hours cheering in Kinnick Stadium.
"One of my favorite games, and my family probably agrees, was the Ohio State game (in 2017). We didn't expect that."

Betty Point
"That's what I look forward to in the fall," she said. "We love it."
Point has not missed a game in several seasons. The only thing keeping the family from attending in person are "weddings or a snowstorm."
The latter, of course, occurred late in November of 2015 when the Hawkeyes defeated Purdue, 40-20. That was the season Iowa made its most recent trip to the Rose Bowl.
Point isn't a fan of cold temperatures, but that didn't stop her from savoring another monumental Hawkeye victory. On Jan. 5, 2010, Iowa held Georgia Tech's offense to 155 yards during a 24-14 win in the Orange Bowl in Miami. When the game began, it was 49 degrees Fahrenheit.
"We had to go buy more clothes," Point said. "But there was a lot of action at the end where we were sitting. Adrian Clayborn was something in that game."
Clayborn, a junior defensive end, had nine tackles and two sacks and was named Orange Bowl Most Valuable Player.