IOWA CITY, Iowa — Former University of Iowa track & field and cross country star Diane Nukuri has been inducted into the NJCAA Cross Country, Track & Field, and Half Marathon Coaches Association Hall of Fame, the NJCAA office announced this week.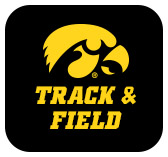 Nukuri, a native of Burundi and a former All-American and Big Ten champion runner at Iowa, was recognized for her accomplishments at Butler Community College from 2004-06, where she claimed nine individual national titles in cross country, half marathon and track & field.
Nukuri set 11 school records at Butler before transferring to Iowa in 2006, where she proceeded to earn three All-America honors, set 10 school records, and win two Big Ten championships.
Nukuri is also a three-time Olympian, representing Burundi at the 2000, 2012 and 2016 Olympic games.