By DARREN MILLER
hawkeyesports.com
IOWA CITY, Iowa — If Tionna Tobias saved her best college visit for last, the University of Iowa women's track and field program should feel flattered by being at the end of her travel list.
Tobias, a sophomore multi-event performer from Sicklerville, New Jersey, took trips to Tennessee, Nebraska, Indiana and South Carolina before checking out Iowa.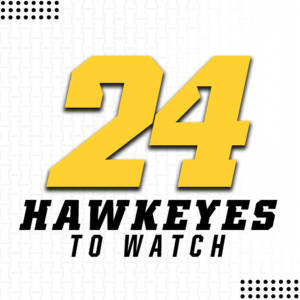 "I was tired of going on visits at that point," she said. "As soon as I got here, I was amazed by the facilities and the interactions with teammates and the coaching staff. Everything was perfect for me."
Entering the 2021 indoor season, Tobias has collegiate bests of 8.56 seconds in the 60-meter hurdles and 19-feet, 1 ½-inches in the long jump, her specialty events. She competed in both at the 2020 Big Ten Conference Indoor Track and Field Championships, finishing 15th in the hurdles and 19th in the long jump.
It was a successful beginning for Tobias, who could not participate outdoors because of the coronavirus pandemic. Her other college bests are 2,724 points in the pentathlon, 25.09 in the 200, 2:48.81 in the 800, 5-3 in the high jump and 31-0 ½ in the shot put.
She continued to develop during her time away from campus after her freshman season. Tobias has suppressed pre-meet nervousness and no longer compares herself to teammates or opponents. She includes yoga and meditation in her pre-meet routine.
"The biggest thing I have learned is to mainly focus on myself," she said. "When I got here, I was nervous, and I would compare myself to teammates or people on other teams instead of focusing on myself. This year I focus on what I can do."
In an intrasquad competition Dec. 11 in the University of Iowa Recreation Building, Tobias ran 8.477 in the 60-meter hurdles, jumped 5-feet-4 ¼ in the high jump and led off a 4×400-meter relay team. She didn't have specific marks in mind, she was just excited to be back on the track.
Tobias began competing in multi-events as an AAU bantam (9-10 years old), but it took her awhile to embrace the strenuous schedule. She was nearly unstoppable once she did: twice Tobias won the AAU Club Championship at the ESPN Wide World of Sports complex in Orlando.
"The biggest thing I have learned is to mainly focus on myself. When I got here, I was nervous, and I would compare myself to teammates or people on other teams instead of focusing on myself. This year I focus on what I can do."

Tionna Tobias
In her final high school meet, she medaled in four events at the New Jersey State Intercollegiate Athletic Association (NJSIAA) Group 3 Championships to lead Winslow Township High School to a state title. She won two medals with a third-place finish in the 100-meter hurdles and an eighth-place finish in the long jump at the NJSIAA Meet of Champions.
Tobias does the work required for similar success in college. Almost daily during the pandemic, Iowa assistant coach Paige Bohannon received updates of Tobias practicing in New Jersey.
"There were videos of her doing javelin or high jump," Bohannon said. "She is a student of the sport and is always breaking things down."
And she has an internal motor to match.
"The minute you see her in a workout, she is an absolute machine," Bohannon said. "She pushes the pace in everything. She is still new and young, so we have room to work. Her mindset going into competition and practice is exactly what you want in an athlete."
Tobias is on pace to become the next successful Hawkeye multi-event performer. At the 2019 Big Ten Indoor Championships, Tria Simmons and Jenny Kimbro went 1-2 in the pentathlon; Kimbro was runner-up and Simmons third at the outdoor championships. Kimbro is still with the Hawkeyes, giving Tobias an opportunity to learn from and train with one of the best in the nation.
"I admire Jenny's work ethic and personality," Tobias said. "Before I came to Iowa, I watched her on Big Ten Network and at NCAAs. She is an all-around good person and good athlete."
Tobias is progressing toward the day when she is among the Big Ten elite in the pentathlon and heptathlon. Practices have been going well and her marks have exceeded anything she did a year ago.
"Making a statement on the conference stage and scoring in multiple events is what we see for her," Bohannon said. "She came in and learned a lot her freshman year and has made a huge transition into her sophomore year."
Off the track, Tobias is lively and cheerful; she smiles and laughs…a lot. What you won't know right away is that in high school she participated in competitive cheerleading and played the violin. Her violin didn't make the trip to Iowa City.
"I didn't give it up, I'm on pause," she said of playing the instrument. "I was an OK (violinist). I wasn't a prodigy, but I was pretty good."
Could Tobias become a track and field prodigy?
"I guess," she said. Then a smile and laughter.