Editor's note: University of Iowa hurdler Josh Braverman opened his 2021 indoor season with a third-place finish in the 60-meter hurdles with a time of 7.99 seconds Jan. 16 at the Nebraska Open in Lincoln, Nebraska. Braverman ran 7.92 in the preliminaries.
By DARREN MILLER
hawkeyesports.com
IOWA CITY, Iowa — A fraction of a second decides first from fizzle in Josh Braverman's world.
When the University of Iowa senior last competed in track and field, 22/100th of a second separated his fourth-place time of 7.83 seconds from the Big Ten Conference 60-meter hurdle champion.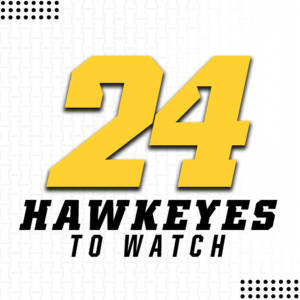 Ever since that race at SPIRE Institute in Geneva, Ohio, Braverman has pursued ways to shave milliseconds so he can climb to the top of future award podiums. One way is extra effort. After a recent practice in the UI Recreation Building that included several repetitions of pulling a weighted sled 40 yards, Braverman went home for additional core and plyometric training.
"That is mandatory," he said. "You're not going to get everything out of yourself unless you are doing extra work on your own, outside of what is already planned for you by the coaches."
Another potential time-cutting maneuver is improved diet. After this practice, and when the bonus reps had concluded at home, Braverman sat down to a menu of pan-fried Alaskan salmon soaked in a chipotle honey mix with garlic powder. There were baked sweet potatoes coated with olive oil, garlic powder and pepper. On the side was a salad and a sea moss smoothie. He calls it simple, good food. No fast food, no soda, no candy. (If he does cheat, it's for a sliver of cheesecake).
"I'm big on nutrition," Braverman said. "I have switched to eating what will benefit me rather than eating for taste. I'm doing research on what foods are going to help me."
Braverman came to Iowa from Lacey, Washington, where he exceled in multiple sports at River Ridge High School, including track under Phil Lonborg, who he calls a great mentor and coach. A slot receiver and cornerback in football, Braverman thought his ticket to the next level would be football.
"I never left the field," he said.
"We're probably the most critical divas when it comes to hurdles. Every time we are done doing a rep, if anyone took a video, all of us are crowded around like vultures staring at it. Then we correct, go back, and keep going."

Josh Braverman
Then he discovered a different avenue. His high school teammate, DeJuan Frye, was running legs on Iowa's indoor and outdoor All-America 4×400-meter relay teams, so Braverman relocated to the heartland.
"Track isn't necessarily the sport I wanted to do because I was all football, football, football," Braverman said. "I realized God has a plan for everything so I wanted to come here, see what happens, ride it out and do my best."
So far, those bests are 7.83 in the 60 hurdles and 13.96 in the 110 hurdles.
Braverman is already on a growing list of Hawkeye hurdle stars. Joey Woody, director of track and field/cross country, sees a hungrier, more dedicated Braverman who is focused on caring for his body.
"He is dialed in on all the stuff that goes into being an elite athlete," Woody said. "He wants to do whatever it takes to get the extra tenth or hundredth of a second to become a Big Ten champion and national qualifier."
Braverman's path to a degree in human anatomy and physiology — as well as being one of the top hurdlers in the Big Ten — has not been easy. Family and financial stressors have been on his mind, and most recently there have been health issues. During a hike this summer, Braverman was diagnosed with pneumomediastinum (a condition in which air is present in the space in the chest between the two lungs) and quit training for more than two months. When he returned to campus, he had wisdom teeth removed, keeping him off the track for another couple weeks. A week before Christmas, he broke a bone in his hand. There is also a busy schedule with academics and working for DoorDash.
"I feel like I'm never catching a break," said Braverman, no pun intended. "It's nonstop, nonstop, nonstop."
Weekly counseling sessions help. So does church. He utilizes healthy coping mechanisms and those things have trickled from his personal life into track. The impact has been positive.
"I'm more focused and relaxed," Braverman said. "I just want to do something big out of college, something noticeable for my community back home so family can appreciate it and I can help them when I'm done here. I would love to be the person who provides for my family."
His newest family includes fellow Hawkeyes, specifically the hurdle group. It is a confident bunch and their closeness is seen in frequent hurdler group chats: You better be eating this, you better be sleeping in, we're going to go get it tomorrow, what are you making for dinner tonight? Photos are shared of meals, sleep schedules and extra core activity after weight room.
"We're probably the most critical divas when it comes to hurdles," Braverman said. "Every time we are done doing a rep, if anyone took a video, all of us are crowded around like vultures staring at it. Then we correct, go back, and keep going."
Calling track his happy place, Braverman said negative anxiety and pressure from the outside vanish on meet day. He is at home and at peace while training and competing with the Iowa hurdlers. The group has so much potential that Braverman is calling his shot now: by the end of the indoor season, everyone in Iowa's hurdle squad will be putting down times of 7.8 or faster.
"We're expecting all of us to be at the Big Ten meet," he said. "If we're not in the finals, we're going to be in the prelims neck-in-neck with milliseconds deciding who gets in."
Braverman is the first in his family to attend college and he takes that milestone seriously. He is excited to, as he says, beat the odds. His college years have been the hardest, yet most fulfilling, time of his life.
"You don't know love until you have sacrifice," Braverman said. "The motto I see on the wall — Win. Graduate. Do It Right. — plays the biggest role for me. It's a great thing to be part of this because nothing but success comes out of Iowa."